"I've made Mincemeat many, many times in the past, but wanted to have a go at one without suet. I've paged through several recipes, but ended up doing my own thing. I don't really care for currants, so I don't use them in my baking. I love apricots and prunes, and have them to hand, so I've used these here instead. I also haven't used sultanas as I always have raisins in the pantry (great in curry's), and don't see there is enough difference between the two to justify buying both. We have fruit trees up in the top meadow and I found I still had one little pear left on the tree whilst I was collecting the cooking apples, so he went in too, but obviously you could just use apples. My total yield was around 2.7kg and I filled the equivalent of 7 regular jam jars. So here it is, my 'Unconventional Suet-less Mincemeat' recipe."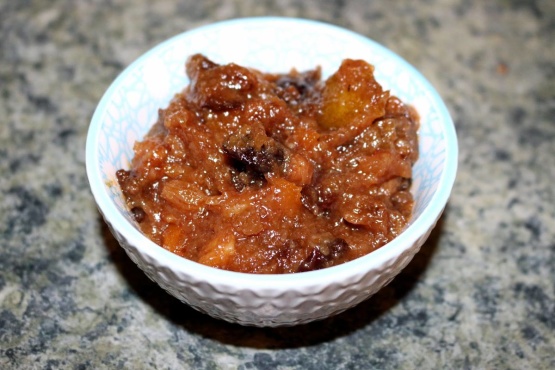 Unconventional Mincemeat (Suet-Free)
1 recipe photo
Directions
1. Steep the Raisins in a jug with the 25ml of Rum and your choice of hot Tea. I have some wonderful Gunpowder Green Tea with Absinthe I pug away for these kind of things.
2. Prepare the Prunes, Apricots, Apples and Pear. Destoning the Prunes can take a while, so if you need to do this, do it first. The apples and little pear came to about 555g altogether, so that's what you are aiming for in apples only if you omit the pear.
3. Zest and juice the Orange and Lemon.
4. Put the Cider, Sugar and Butter in a large, heavy-based saucepan and gently heat to dissolve the sugar and melt the butter.
5. Drain off the liquid from the Raisins and add the rehydrated fruit to the pan, followed by the rest of the prepared Fruit, Candied Peel, Juice and Zest, and simmer half covered for about 35 minutes, stirring occasionally.
6. After 35 minutes, the apples should be soft. Now add the magic; the Almond Flour, Desiccated Coconut, 125ml of Rum, and all those wonderful Spices. Cook for another 5 minutes stirring all the time.
7. Have a little taste (that's Christmas on a spoon right there) before spooning into your sterilised jars.
get the genius kitchen app.
Watch on your iPhone, iPad, Apple TV, Roku, or Fire TV.
Learn More