"I got this recipe as part of "Recipe Exchange Mode" with SusieQusie who found it in the "1 of a Kind Cookbook" of the Junior League of Mobile, AL. The real beauty of this recipe is two-fold - a truly unique presentation and a potato salad mixture you can tweak to suit your personal preferences. Think about it - no more bowls of potato salad sitting on your patio or dining room table getting warm. Prepare however many roll-ups you think you will need, keep them refrigerated, while your guests or family eat, and replenish the supply as needed. Way cool, huh? (Time does not include time to cook potatoes or hard boil the eggs, but I have allowed 15 minutes to prepare all the ingredients for assembly.)"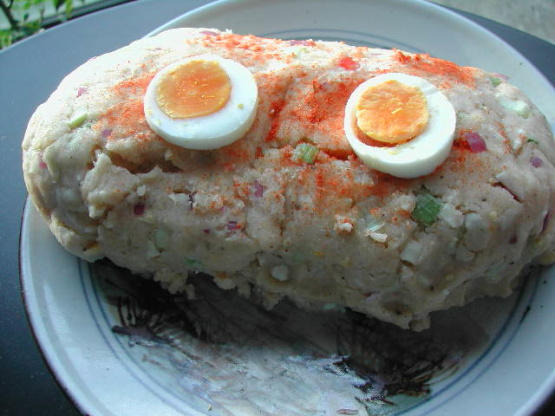 Unique Potato Salad Roll-Up (Via Susiequsie)
2 recipe photos
Directions
Peel, boil, drain and mash potatoes. DO NOT ADD ANY LIQUID!
Combine potatoes with 1/3 cup mayonnaise, salt and paprika.
Stir in celery, hard boiled eggs and onion.
Refrigerate until well-chilled.
On waxed paper, pat potato mixture into a 12 X 9" rectangle.
Combine cottage cheese, 2 Tablespoons mayonnaise, and green pepper.
Spread cottage cheese mixture over potato rectangle to within 1" of edges.
Using wax paper as your guide, gently roll up (starting from the short side)and chill.
Garnish with parsley and egg slices.
Sprinkle with paprika if desired.
NOTE: I thought assembly might be a greater challenge than stated, so when I made this recipe here is what I did:
I used parchment paper brushed lightly with olive oil using my pastry brush. Then I wiped it to a very thin film using paper towel, folded the parchment paper several times on the edge where I intended to begin the roll, so I would be able to firmly manage the roll. I spread the potato mixture on the paper, chilled it in my freezer for 15 minutes and rolled it up with no problem.