"Another variation on "beer can chicken." I hit upon the happy combination of garlic and cider by accident, but it's is a keeper. For roasting I use a stoneware dish with the "can" built-in, and serve with the same dish. Mine is from claycoyote.com, but you can use just about any version of this that holds the chicken vertical and catches the juices. Fresh chickens seem to taste better than frozen ones. This also makes a wonderful chicken soup base later if you boil the carcass and giblets with bay. The garlic that has been baking in the cider tastes great. I'm not kidding. Try it."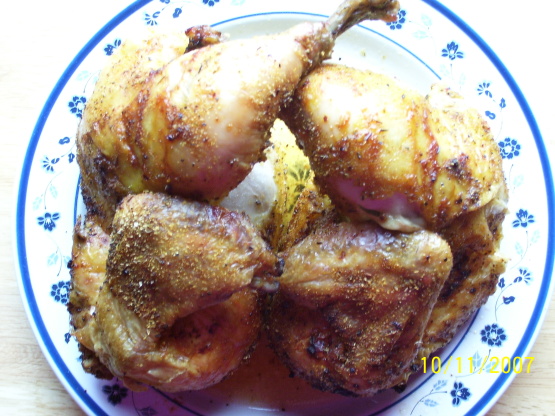 Upright Chicken in the Oven With Garlic and Cider
2 recipe photos
READY IN:

2hrs 5mins

SERVES:

4

UNITS:

US
Directions
Preheat the oven to 350°F.
Pour cider into the cup on the roasting dish.
Peel and crush garlic and drop into cider.
Drop rosemary into cider.
Remove giblets, neck, etc. from chicken and freeze for soup later.
If the chicken is on the large size (depends on your roasting dish), cut off the tail to make it sit more upright. Freeze the tail with the other pieces.
Rinse chicken and rub all over (inside and out) with steak seasoning.
Place chicken on dish over roasting cup. If the wingtips are hanging beyond the edge of the dish, tuck them behind to prevent juices dripping in your oven. You can also put a cookie sheet or foil on the second oven rack below the one holding the chicken.
Bake for 20 minutes per pound at 350°F.
Cut into the joint between the leg and the body to make sure the meat is fully cooked. It should almost be falling off the bones, with a crispy skin all around.
If the meat is done, take the chicken out of the oven, wrap in foil, and let it "rest" for at least 5 minutes before serving. This gives the juices time to redistribute and makes the meat really moist.