"This is a slight modification of a vanilla sponge cake recipe from Martha Stewart. I have substituted unsalted butter and flour to dust with cooking spray. Recipe uses a round 6'' cake pan."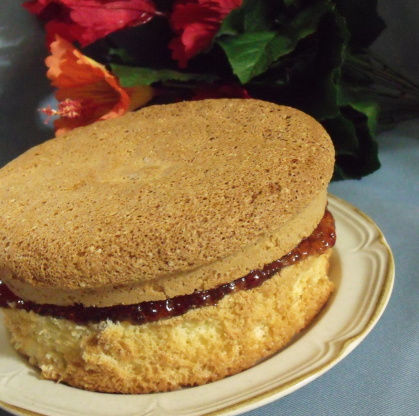 Vanilla Sponge Cake
1 recipe photo
Directions
Preheat oven to 350°F Spray a 6'' round cake pan. Line bottom with parchment paper. Spray parchment with cooking spray. Sift flour and cornstarch together into a small bowl, set aside.
Beat egg yolks, vanilla and 1/4 c sugar in the bowl with an electric mixer on high speed until pale and thickened, about 5 minutes.
Put egg whites and salt in a clean bowl. Beat on medium speed until soft peaks form, Gradually add 2 tbsp sugar, Beat until stiff peaks form and looks glossy.
Fold egg white mixture into yolk mixture. Fold in flour mixture in 2 batches. Transfer batter to the prepared pan. Bake until cake tester comes out clean, about 35-40 minutes. Cool completely on wire rack.