"At Christmas, my mom ALWAYS baked an apple crisp in her deep glass pie dish, and we unashamedly scarfed it down. The apples made it healthy, sure, but what about all the hard fat? When we went vegan and couldn't buy a dairy-free margarine, that was a dilemma. Thankfully, we don't have to resort to Crisco. We found and modified this recipe on Vegweb, and now our holiday apple crisp is every bit as sinfully sweet, appley and crispy as it ever was."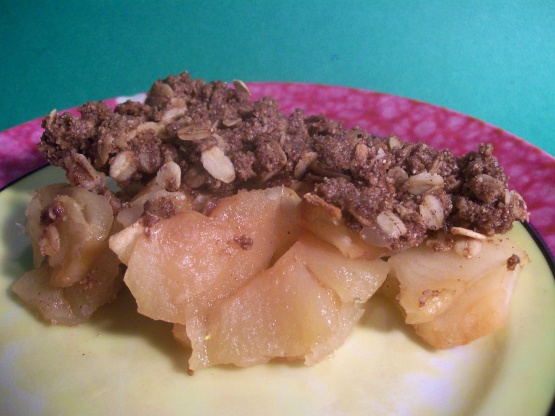 Vegan Apple Crisp (No Margarine)
2 recipe photos
Directions
First of all, feel free to use any type or combination of apples. If you are using a very firm variety- granny smith for instance- it is a good idea to cook them for a couple of minutes, with as little water water as possible, just to warm and slightly soften them. Otherwise they will stay rather firm instead of half-melting as they bake.
Preheat oven to 350.
Mix the other ingredients, with a spoon, then with fingers, until the texture is crumbly. If too dry, add more oil or soymilk; if too wet, add more flour.
Transfer the apples to a medium casserole or pie dish. Sprinkle the dry mixture over them and even it out a bit with a spoon.
Bake for 1/2 hour, checking occasionally, till the "crisp" is golden and crispy! Allow to cool a little before devouring with a scoop of vanilla ice cream -- enjoy!