"This is the stock used in a recipe I have just posted for Cashew and Leek Soup. It has been adapted from a book which I found today and just HAD TO BUY - 'Green: modern vegetarian recipes' by Australian cook Flip Shelton. I haven't tried any of the recipes yet, but all the recipes in the book sound wonderfully healthy; and this recipe is really quite different from the other vegetable stock recipes already posted. If you are wanting to make your own vegetable stock, you may want to combine the ideas here with another recipe. It's just that it could take a while to gather together the ingredients! As Flip says "It's so easy to make your own stock - plus it's a great way to use up things like vegetable peel (other than potato), carrot tops and bottoms, onion skins and the skinny inner stalks of celery. Start by saving well-washed vegetable peel in a plastic bag in the freezer. Keep adding to the bag until you have enough" to make this recipe. She doesn't mention making this in a crockpot, but this is where I'll be making it once I've got into the habit of saving the required ingredients!"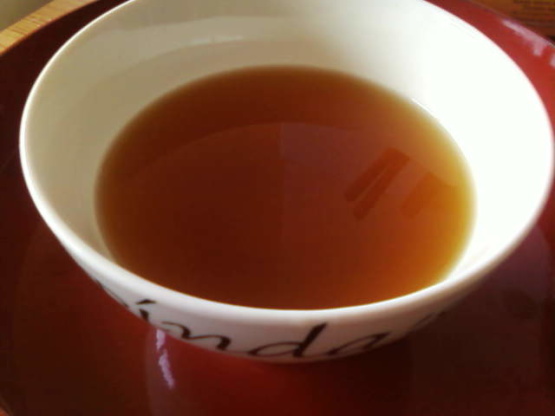 Vegetable Stock
5 recipe photos
Directions
Place the vegetables in the stockpot, add 2 litres of water, a bay leaf and some peppercorns, and simmer, covered, over a low heat for 1-2 hours.
Strain and freeze in small portions (about 1 cup/8 fluid ounces).
If you run out of stock, use water, and add a teaspoonful of soy sauce, miso paste or Vegemite, and a bayleaf.