"I know, this sound weird. I've been a vegetarian for 5 years and there are some items I missed from my meat eating days. I was having a craving for a Carl's Jr. Western Bacon Cheeseburger one day and decided to vegetarianize it. This is super easy to make and tastes very much like the original. To save time and to make it taste more authentic, use onion rings from a fast food restaurant like Sonic. I prepared the burger while I send my boyfriend down the street to Sonic. Also, slightly burning the Lightlife Smart Bacon is what makes it taste like real bacon."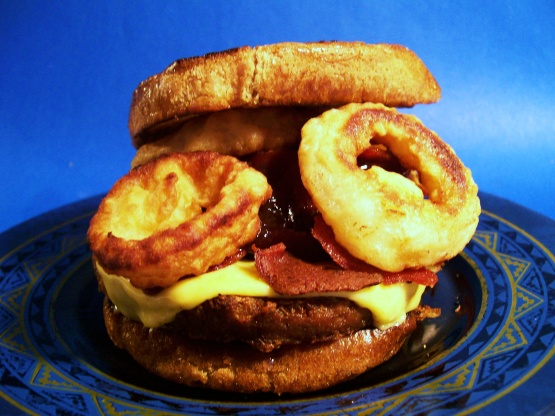 Vegetarian Western Bacon Cheeseburger
2 recipe photos
Directions
If cooking your own onion rings, preheat the oven and start those first.
Spray a small pan with cooking spray and heat to medium. Cook Smart Bacon until crispy and slightly burned, turning occasionally. Set aside.
Thaw Griller patty in microwave and transfer to heated pan on medium-low. Cook until slightly crispy, but not burned. While the patty is cooking, lightly toast the buns on a skillet. Have cheese slice ready and immediately after turning the patty, place cheese on top followed by the bacon and BBQ sauce. You may put some drops of water into the pan at this time, the steam will help melt the cheese.
Pull the bottom bun from skillet and place the onion rings on it. Pull the rest of the burger on top. ENJOY!
NOTE: Cooking time is based on baking onion rings at home. If you buy them from a fast food place, the cook time is closer to 10 minutes.