"Great recipe for Farmers Markets vegetables during the season. Can make as many different additions as you'd like. Not real spicy but add 3 tablespoons of chili powder to spice up. Have made at several Farmers Markets in Madison, Wisconsin, USA-people loved it.... If you want meat cook some, shred or dice, and add. Adapted from an original recipe of Chef Bill Wavrin of Miraval Life Balance Spa in Catalina, Arizona, USA."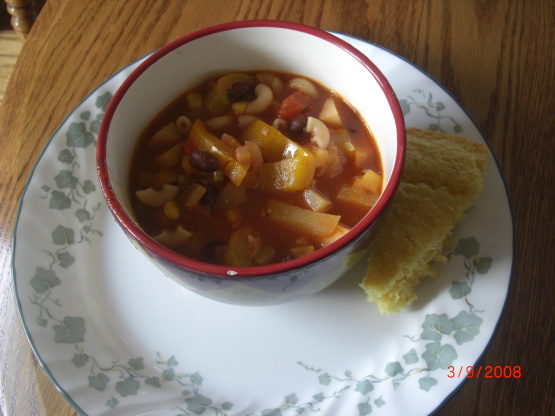 Veggie Chili
1 recipe photo
Directions
In a heavy skillet, medium heat roast the chilis until skin is soft and blistered. Put into paper bag and cool 5 minutes. Remove the skin, destem, deseed, and dice the chilis.
In large stock pot, medium high heat, warm the olive oil, add the onion and "hardest" vegetanbles and saute until soft about 4-5 minutes. Add any remaining vegetables, tomatoes, tomatoe sauce, Bloody Mary mix & diced chilis. Raise heat and bring slowly to a low boil (aproximately 9 bubbles).
Lower heat to barely simmer and add any OPTIONAL ingredients-chili powder or pasta. Simmer about 15- 20 minutes. Taste test and season with salt, pepper and then serve. Leftovers package in 1 quart freezer bags and freeze. Very easy to cool down in plastic bags!