"This is a WONDERFUL hearty meal, for a sick person especially; the veggie version of chicken noodle soup. Great winter soup meal. You could always do the stock in the crock pot, transfer it to the stove, and make the dumplings when you are about ready to eat. But know that the veggies will get super soft this way. If you use eggs and prefer, sub 1/2 cup water with 2 beaten eggs. This will cut the dumpling cooking time to 20 minutes at most altitudes."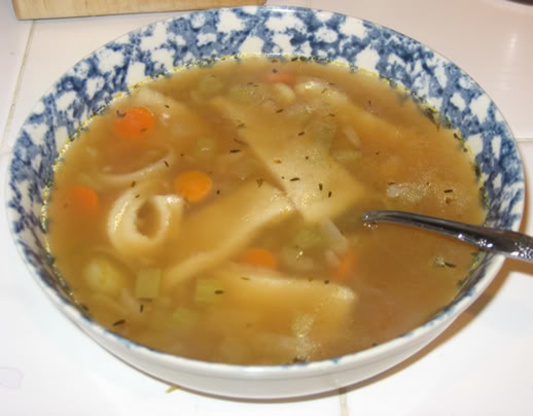 Veggie Dumpling Soup (Vegan)
3 recipe photos
Directions
Heat oil; add onion, leek, bay leaf, thyme, and parsley.
Cook on a low setting for 10 to 12 minutes until soft and translucent.
Bring up the heat to medium or medium-high.
Add the carrots, celery, and garlic.
Stir occasionally until carrots are done or mostly done, 10 minutes or so. When vegetables are cooked, stir in the nutritional yeast flakes; they will get creamy with the veggies and oil.
Add 8 cups water (2 quarts), and salt.
Cover and bring to a boil.
While water is coming up to a boil (it will do so quickly!) put the dumplings together.
DUMPLINGS:.
Mix wet in one bowl, dry in another. Pour wet into dry and combine until a heavy dough forms.
Knead on lightly floured surface for 1 minute. If dough is sticky add a bit more flour until it is fairly dry.
Let dough rest 5 minutes.
Roll out to 1/8" thickness and cut into 2 x 1" strips (or whatever size you find easy to work with though they'll take a lot longer to cook if they are bigger).
Drop into boiling broth; cover and simmer 20 to 35 minutes.
The non-egg version needed to cook longer than my original version, but I'm also high altitude. Taste for doneness. They'll seem mealy if they're not done yet. When done they are sort of like thick noodles or a biscuit or something. Yummy and hearty. If in doubt, let them cook another 5 minutes and taste again.