"I found this on the back of a box of Morning Star Farms "bacon" strips. I added one (7 oz) can chopped green chilies and I used sharp cheddar cheese instead of the regular. I also have used a can of green beans in place of the broccoli, but cut them up. We loved it. I always make this when my mom, who is a vegetarian comes to visit. Although it is a vegetarian bacon substitute, once it's mixed in and baked, it still has that satisfying bacon flavor and it's hard to tell that it really isn't bacon. YUM."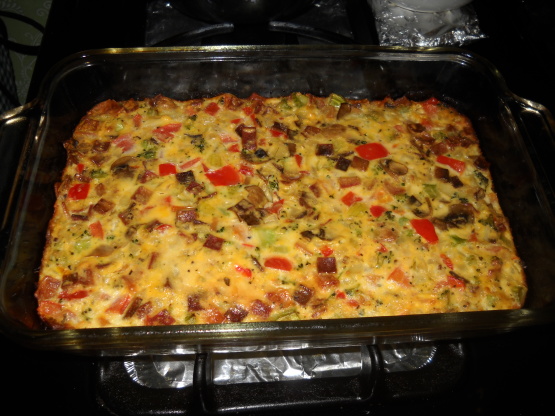 Veggie Medley Frittata
1 recipe photo
Directions
1. Prepare MSF bacon strips as per pkg. directions and then crumble or cut into pieces.
In large skillet, saute broccoli, mushrooms, green onions and bell pepper in butter until tender. Set aside.
In a mixing bowl, beat together eggs, water, oregano, pepper, garlic powder, onion powder until foamy.
Stir in MSF prepared bacon strips, cheese, tomatoes, broccoli mixture and green chilies.
Pour into a greased shallow baking dish (1 1/2 qt).
Bake at 350 degrees 25-30 minutes or untl knife inserted in center comes out clean.
Watch closely and if it starts to get too brown cover loosely with foil.
Let stand 5-10 minutes before cutting and plating.
Serve topped with sour cream.