"Ultra moist and easy cake from Cook's Illustrated: While the name implies comical roots, Wacky Cake was actually born out of the seriousness of wartime rationing. At various times during the world wars, eggs, butter, sugar, and milk were all in short supply, so inventive home cooks and home economists did their best to create dishes with limited ingredients. Wacky cake is a moist chocolate cake prepared, miraculously enough, without eggs or butter. Despite the omissions, the cake tastes great."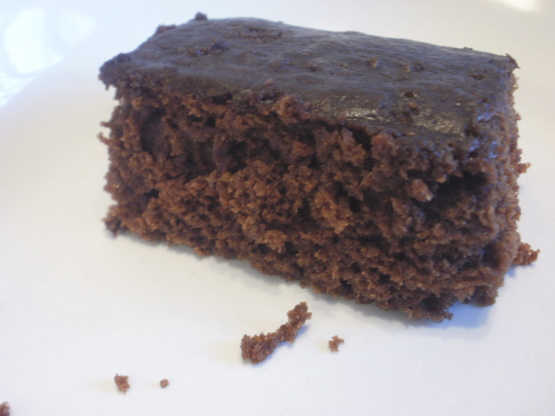 Wacky Cake
1 recipe photo
READY IN:

40mins

SERVES:

6-8

UNITS:

US
Directions
Important NOTE: The cake relies on the last-minute combination of vinegar and baking soda for leavening. The reaction between the two causes the batter to bubble vigorously, and thus, rise. The cake has to be prepared in its baking pan; otherwise it doesn't rise nearly as well. Make wells in the dry ingredients and add the wet ingredients--oil, vinegar, and vanilla--to the wells, and then add water and stir quickly (but not too much) to blend the batter just moments before you put it into the oven. Streaks of flour should remain.
Adjust oven rack to middle position and heat oven to 350 degrees. Coat 8-inch-square baking pan with nonstick cooking spray.
Whisk flour, sugar, cocoa, baking soda, and salt together in pan. Using a spoon, make 1 large and 2 small craters in dry ingredients (the large carter needs to deep enough to hold the oil). Add oil to large crater and vinegar and vanilla separately to remaining small craters. Pour water into pan, using a wooden spoon or spatula, mix the batter, taking care not to overmix; the batter should still contain a few streaks of flour. Immediately put pan in oven.
Bake until toothpick inserted in center of cake comes out with a few moist crumbs attached, about 30 minutes. Cool in pan, then dust with confectioners' sugar. (If tightly wrapped, cake will keep for 3 days at room temperature.)
Great with ice cream or whipped cream or both :-).