"Tacos filled with a delicious, rich "cheeze" made of cashews and cilantro, topped with crumbled nut "meat"! The cheeze keeps for 3-4 days in the fridge and the nut meat for up to a week. You may also scoop the cashew mixture on top of a salad, or serve as a dip with sliced carrots and cucumbers! The walnut mix is also good sprinkled over salad or soup! Great raw food! Adapted from Delicious Living magazine."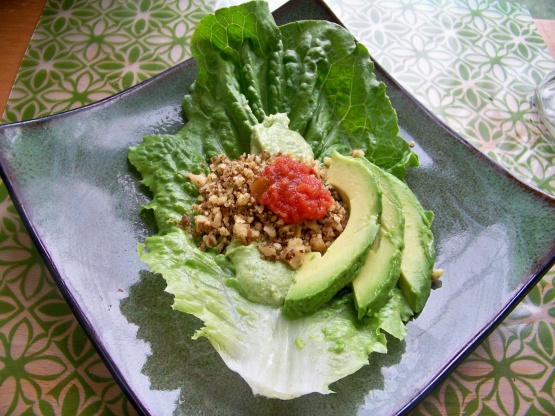 Walnut Taco Wraps With Cashew Cheese
1 recipe photo
Directions
To make cheeze:
Place garlic and salt in a food processor; process into small pieces. Add cashews and process into paste. Add lemon juice, cilantro, and water and process to mix well. Set aside.
Makes 1 cup.
To make meat:.
Place walnuts, cumin, coriander, liquid aminos, and salt in a food processor. Process into small pieces until the mixture looks like ground meat. Be careful not to overprocess, it will turn into butter.
Makes 1 cup.
Scoop 2 tablespoons cashew mixture down the inside spine of each romaine leaf. Sprinkle with 2 tablespoons walnut mixture. Add salsa and avocado slices. Wrap and serve. Enjoy!