"This is a recipe my mother gave me. It was typical of the types of cakes baked during the war when shortages and rationing was in effect. It is moist and delicious. Mother always made it at Christmas time and we thought it was a real treat. Posted in response to a request."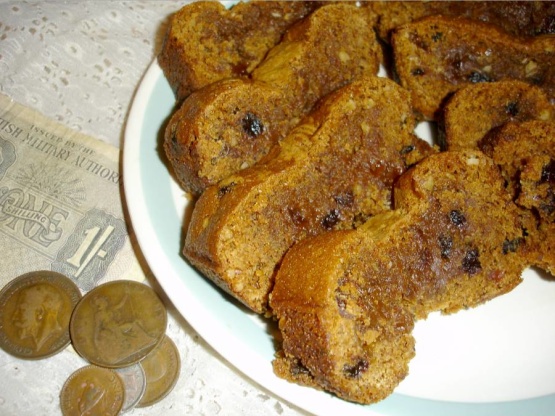 Directions
Put the first 7 ingredients in a heavy gauge saucepan and bring to a boil.
Cook gently for 5 minutes and remove from heat and let cool until mixture is comfortably cool to your finger.
Preheat oven to 350 degrees F.
Grease and flour 2 loaf pans.
Sift together flour, salt, baking soda, and baking powder.
Add them to the cooled sugar mixture, beat well.
Stir in walnuts.
Bake for 45 minutes or toothpick comes out of center clean.
Cool in pans 10 minutes and then turn out on plate and cool completely.