"Buying a watermelon so often leads to leftover melon. Here's a delicious way to make use of this largesse. Buy 5-oz (150 g) paper "bath cups"—they make great moulds for ice pops, as the paper just peels away. Gelatin helps keep drips at bay and also adds to smoothness. From LCBO Food & Drink Magazine. Time to prepare does not include time to freeze. Watermelon is thought to have originated in southern Africa, where it is found growing wild, because it reaches maximum genetic diversity there, resulting in sweet, bland and bitter forms."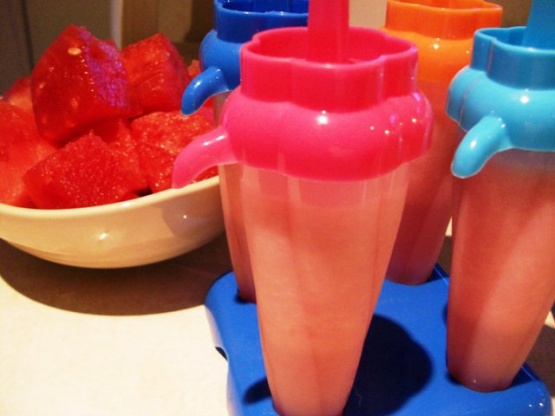 Watermelon Ice Pops
1 recipe photo
Directions
Sprinkle gelatin over boiling water and immediately stir until dissolved, about a minute.
Use an ice cream scoop to remove red watermelon flesh; measure out 4 cups and add any juice left in scooped watermelon half.
Whirl watermelon with sugar and lemon juice in blender then strain, reserving juice.
Thoroughly stir in dissolved gelatin. (There should be about 4 cups) Measure into cups or moulds and insert sticks or plastic spoons.
Freeze several hours until frozen.
Store sealed in freezer-weight plastic bag for up to 2 weeks.