". A homemade recipe. It features white wine in the recipe."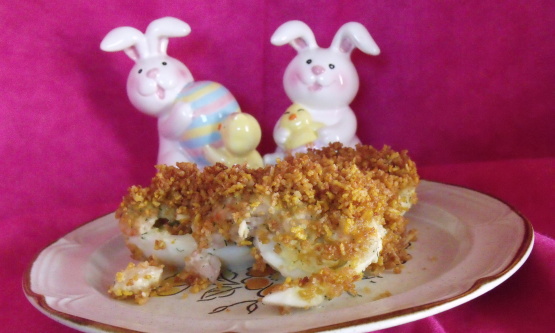 Weekend Cookers Shrimp and Egg Casserole
1 recipe photo
Directions
Saute green onions in butter in a medium skillet.
Stir in flour and cook for 1 minute, stirring constantly, but don't brown.
Add wine, cream , milk, and dill weed and cook on medium stirring constantly until sauce thickens.
Stir in cheddar cheese, blend well, and set aside.
Cut eggs in half lengthwise, and place eggs yolk side up in a 9x13 inch baking dish. Cover with the shrimp.
Slowly pour sauce on top of shrimp.
In another large bowl, combine breadcrumbs, melted butter, and parmesan cheese, and mix very well.
Sprinkle mix on top of casserole.
Bake uncovered at 375 degrees for 20 minutes, or until bubbly.