"Old fashioned buttery thin crust on the outside of this tube pan cake. There is no salt or milk. Powdered sugar is the key to this cake and you can use butter, margarine or butter flavored Crisco. I use a combination of butter and butter flavored Crisco. No icing necessary. Serve with fruit, whipped cream or whipped jello or any combination. Recipe found in the walls of our homestead built in 1907 tacked along side of Lithuanian newspapers which were used for insulation. I have updated recipe ie. butter flavored Crisco and Pam. They pounded the sugar to become powder with mortar and pestle."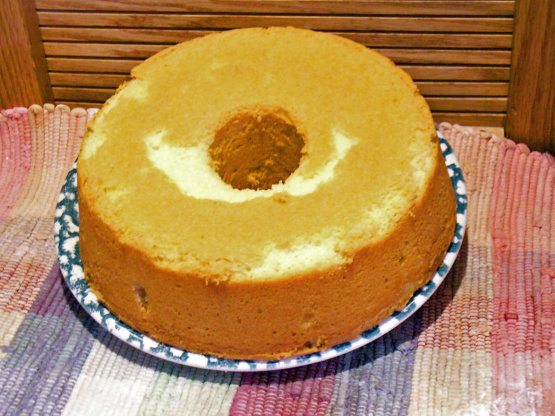 Western Homestead Old Fashioned Butter Cake
1 recipe photo
Directions
In mixing bowl, add 1 pound of butter or a combination of butter and margarine or butter and butter flavored Crisco to equal 1 pound.
Mix on low speed until soft and blended.
Add powdered sugar in one/third amounts, beating each one/third until all is mixed and fluffy.
Then add one egg at a time. Beat one minute for each egg.
Add vanilla extract.
Mix.
Preheat oven to 300°F.
Spray Pam in a tube or angel food cake pan.
Note: You can use butter or margarine also.
Add flour, 1/4 cup to 1/2 cup at a time and mix on low speed until blended.
Pour batter evenly in pan.
Bake 1 1/2 hour in oven. High altitude, cook 5 to 10 minutes more.
Turn over tube pan over plate. I guarantee this cake will fall right out on the plate. Serve warm or cool. This is a no fail cake. Do not open the oven door.