"This recipe makes a delicious and creamy ganache filling, that's light as air, not too-intense and will definitely bring you to chocolate heaven! It's also very easy to make, can be made ahead and you will NOT regret it. The amount of chocolate used depends on the type of chocolate. Recipe makes enough to fill and frost a 3-layer cake. Recipe by Alice Medrich, the dark chocolate goddess."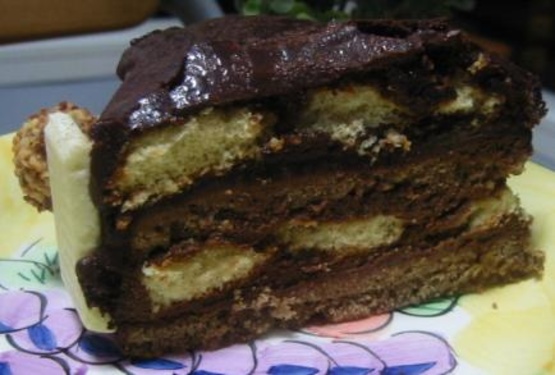 Whipped Chocolate Ganache Filling (or Frosting)
2 recipe photos
Directions
Place chopped chocolate in a medium-sized bowl.
Heat heavy cream and sugar (if using) in a large heavy saucepan over med-hi heat until it simmers gently.
Immediately pour the hot cream over the chocolate and stir gently until the chocolate is mostly melted.
Let stand for 15mins to be sure all chocolate is melted.
Stir ganache gently until perfectly smooth, let cool.
Cover and chill for at least 6 hours, preferably overnight (it must be very cold or it will curdle when it's whipped; ganache can be made up to 4 days ahead).
When you're ready to assemble the cake (and NOT before), whip ganache until it's stiff enough to hold a nice shape and seems spreadable (Don't overwhip; overwhipped ganache looks granular, so watch carefully).
Spread whipped ganache immediately, as it will firm as it sits.
NOTE: if using 50-60% bittersweet chocolate, use 8 oz of chocolate and omit the sugar; if using 60-64% chocolate, use 7 oz of chocolate and omit sugar; if using 66-72% chocolate, use 6 oz and add the optional sugar to give the ganache a bit of'lift'.
If you're just using this as a filling, halve the recipe.
If you're glazing the cake with a chocolate glaze, chill the filled cake for at least 1 hour (up to 2 days) before glazing.