"Found this recipe and it looks like something right up my alley. Someone in the comments section tried to convert the amounts from ounces. If you don't have a kitchen scale, I would imagine this would be pretty forgiving if just a tad off. 2 ounces = 4 tablespoons (1/4 cup) 7 ounces are anywhere from 3/4 -1 cup (about 14 tablespoons) http://erincooks.com/white-chocolate-peanut-butter-cups/ and http://www.foodnetwork.com/recipes/nigella-lawson/chocolate-peanut-butter-cups-recipe/index.html"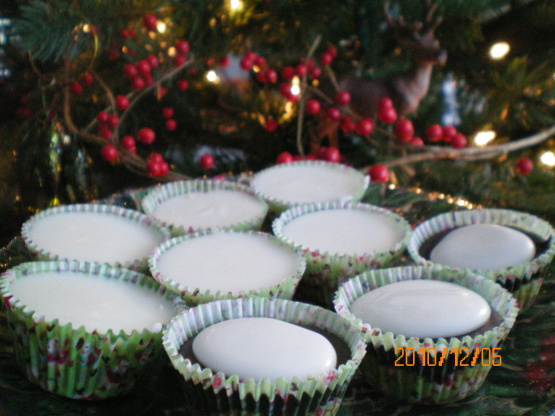 White Chocolate Peanut Butter Cups
1 recipe photo
Directions
Place all the ingredients for the base in the bowl of a food processor. Blend the mixture until the mixture takes on a sandy texture.
Place 12 cupcake liners into a muffin tin. Using a medium ice cream or cookie scoop place 1 scoop of the base mixture into each cupcake liner. Press the mixture down to form an even layer at the bottom of each mini cupcake liner.
Melt the chocolate over a double-boiler. Using your scoop, top each peanut butter filled cupcake liner with 1 scoop of chocolate. Smooth the tops of the Peanut Butter Cups with the back of a spoon.
Refrigerate for 1 hour or overnight.
Note: To make this quicker, melt the white chocolate in the microwave. Microwave on 30% power for 2 minutes, remove and stir. Continue microwaving on 30 second intervals, stirring after each interval, until chips are melted and mixture is smooth. Do not overheat or the white chocolate will stiffen.