"Tonight I just couldn't get my act together for dinner! Came home and thought that I would have a quickie dinner - Mac and Cheese. No problem. OK...soon discovered there was a problem when I had no Mac...so off to the store I went to buy macaroni. Came home, boiled the water and macaroni and started the sauce. No milk ...or at least not enough....and no chicken bouillon. What to do? Triumph! A new Mac and Cheese recipe was born....so come share it.....it turned out surprisingly great! You can substitute chicken flavouring for the vegetable. I used what I had in the fridge....in fact I'll put this one up against my regular mac and cheese any day !"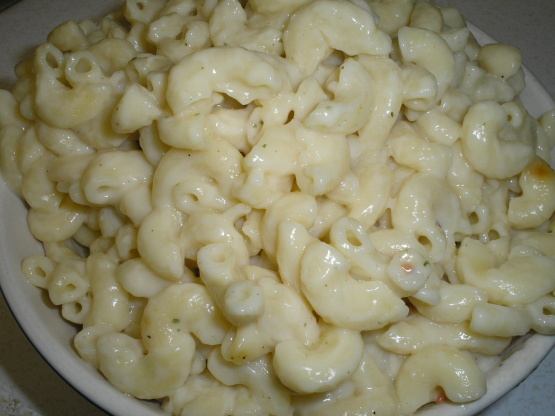 White Macaroni and Cheese Attack !
1 recipe photo
Directions
Bring water to a rapid boil.
Add salt to the water for taste.
Add the macaroni and cook until it is very tender - 10 - 15 minutes.
While the macaroni is cooking, heat a sauce pan on medium.
Add the margarine/butter to melt.
When melted add the flour and whisk until it is blended.
Add the milk (1-2 cups as needed), white wine, vegetable flavouring and dry mustard.
Whisk until it has thickened.
Add the shredded cheese.
Whisk them all together and turn off heat.
Drain the macaroni when tender, add it to the sauce, add salt and pepper to taste -- and enjoy your comfort food !