"Apples were literally flying through the air, as we went around trying to gather the last of our McIntosh's from the cool ground. The wind was blowing so hard I thought my own farm coat would blow right off my back. What was I gonna to do with last apples, anyway? Upon reentering my home, I poked around the cupboard, to see what my be behind the can of sauerkraut and a bag of white beans. Low and behold! I found dried apricots...and in another cupboard next to my canned applesauce, I found some walnuts that needed to be cracked or perhaps thrown out to the squirrels who were already devouring the birdseed in the feeders. I want something quick, that smells beyond compare, and to serve warm later this afternoon. Why do I pick walnuts instead of pecans for the crumble? Well, for us on the farm, pecans tend to be a good sizable price difference, and also these are the little walnuts that came from our tree in the orchard. Can't get much cheaper then this, right? Anyway, please feel free to use pecans interchangeably. I know either way, sitting down in the rocking chair later today, with a scoop of this aromatic crumble will allow your mind to wonder and you get to rest and daydream for a bit."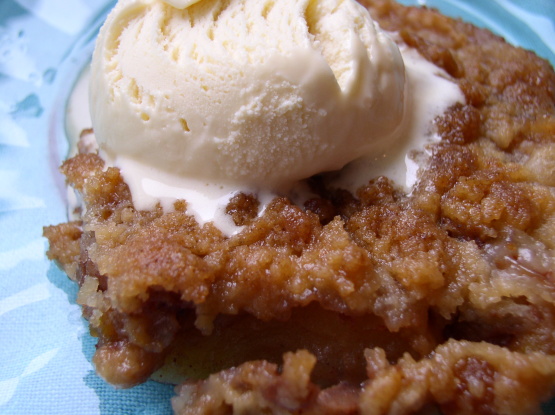 Who Put an Apricot Into My Apple, Walnut, Crumble? Longmeadow Fa
1 recipe photo
READY IN:

45mins

SERVES:

4

UNITS:

US
2

lbs mcintosh apples, peeled, cored, cut in 1 inch slices. (any cooking apples will do fine here)
1⁄2

cup diced dried apricot

1⁄2 cup walnuts, broken into pieces (or pecans)
1⁄2 teaspoon ground cinnamon
1⁄4

cup orange juice (I used pineapple once!)

1⁄2 cup sugar (add more if you like it sweeter)

1

teaspoon vanilla

Crumble Topping

3⁄4 cup all-purpose flour

1

teaspoon baking powder
1⁄4 cup sugar
1⁄4 cup brown sugar (light)

8

tablespoons unsalted butter (room temperature - 1 stick)
1⁄2

cup whipped topping (I use heavy whipping cream sometimes if I want this special)
Directions
Heat your oven to 400 degrees.Lightly mix apples, apricots, walnuts, cinnamon, orange juice in a large bowl.
Topping: Combine the Crumble topping ingredients together, mixing with your hands until topping becomes crumbly and mixed.
Put apple mixture in a baking dish approximately 13X9X2 inch in diameter.
Sprinkle with crumble mix.
Place dish on cookie sheet and bake for 30 minutes, or until the little apples are tender, and the topping is sufficiently brown and crusty.
Get a spoon, scoop out some crumble and add some real nice whipped cream, or ice cream to the top.
YaHoo!