Want more from Genius Kitchen?
Watch on your Apple TV, Roku, or Fire TV and your iOS, Fire, or Android device.
Learn More
"This bread is bee-YEW-tiful toasted and even better as cinnamon toast, but you won't believe how amazingly delicious it is for grilled cheese sandwiches! It's soft and tender, moist and flexible enough to fold without cracking or tearing. It is the texture of your husband's and children's white bread dreams. That's how I finally got mine to eat true whole wheat bread (but I still have to leave out the nuts, grains, and seeds from theirs). It's the lecithin. I have never been able to achieve this texture without it. So, while it is not necessary to the successful taste or rising of the bread, it is definitely necessary for this specific texture and softness."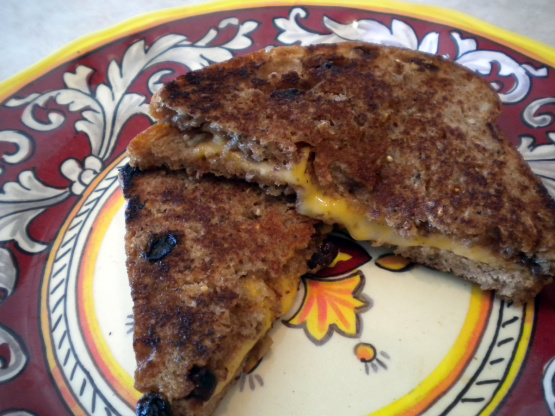 Whole Grain Cinnamon Raisin Bread
5 recipe photos
Directions
Put the warm water, sugar and yeast into the bowl on the Bosch (or your mixer of choice) and stir gently.
Add melted butter, lecithin, wheat gluten, cinnamon and salt and mix until combined. (I only used 2 tsp of cinnamon when I made this recipe and wished, when I had finished, that I had used more. The cinnamon flavor was only mildly discernible and next time I will definitely double that, so go by your own personal taste, as to how much seems right.)
Mix in about 3½ cups of the flour and then in small increments, gradually add just what you need to complete the dough. In total for this batch, I used 4½ cups of flour.
(After all my bread posts, you are probably tired of hearing this, but it is really important if you want the best possible bread. Humidity will dramatically affect the amount of flour you need to make bread dough. Add a portion of what is called for, mix it in and then begin adding flour in 1/2 cup to 1/4 cup intervals, mixing and adding more when needed, until the dough in your machine just starts to pull away from the sides of the bowl and leaves the bowl sides clean. The dough will be very soft, but not sticky to the touch. That is perfect dough.).
Add the grain and raisins and mix until incorporated. (See below for a tip on baking with raisins.).
Knead on power level 2 for seven minutes or turn onto a floured board and knead by hand for ten to fifteen minutes.
Place in a lightly oiled bowl and cover with a warm, damp tea towel and let rise until doubled in size.
Punch down the dough. Knead slightly until it forms a smooth ball. Divide in half.
Form each half into a loaf and place in a greased loaf pan. Cover with a warm, damp tea towel and let rise until doubled in size.
Bake in a 350° oven for 35-40 minutes. Brush tops of loaves lightly with butter. Remove from pans onto cooling rack to cool before slicing.
To see the complete step-by-step pictorial instructions for this recipe, visit my blog at http://busy-at-home.com/blog/?p=3546.
**The promised tip for baking with raisins** If your raisins are particularly dried, they can often scorch and have an almost burnt, bitter taste after further dehydrating in your oven. So, before I add them to mixtures I will be baking, I measure them into a microwave safe container, completely cover them in water and microwave on full power for 1 – 2 minutes. I leave them in that warm water while I mix the rest of my ingredients and then thoroughly drain them just before adding them to my dough or batter. They are plump, juicy and sweet even after the baking is complete.
get the genius kitchen app.
Watch on your iPhone, iPad, Apple TV, Android, Roku, or Fire TV.
Learn More