"This recipe uses no refined products and is very healthy to eat. I order my whole berries from a co-op and grind my wheat yourself. I think it tastes better when you grind your wheat yourself but if you don't have a mill you can still buy the whole wheat flour at the store. I also mix my bread up in a Bosch mixer. If you don't have a mixer like a Bosch, DLX or a Kitchenaid you can do it by hand."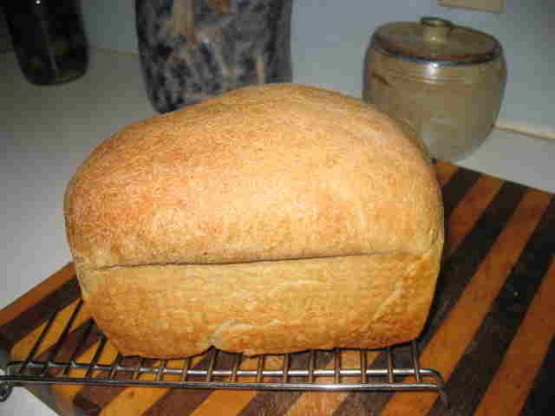 Whole Wheat Bread
1 recipe photo
Directions
In your mixing bowl add the warm water (110-120 degrees), yeast and two cups of the flour.
Stir well and let it sponge for 30 minutes.
Stir to blend and add one cup flour and turn your mixer on low.
Add flour by 1/2 cupfuls until the dough cleans the side of the bowl and is no longer sticky.
Let it knead in mixer for about 6-8 minutes.
After is has finished kneading let it rise in the mixer until it is doubled.
After it has doubled, put a light coat of oil on hands and take dough to an oiled cutting board and cut into two pieces.
Form these pieces into loaf shape and put into loaf pan.
Keep loaves covered with a lightweight drying cloth while the bread rises.
It should rise to about 1 1/2 inches above the rim of the pans.
Put loaves in oven and turn on heat to 350 degrees.
Let bake in oven for 25-30 minutes.
Remove from the oven.
Remove from pan and cover with a clean towel which helps soften crusts.
You can store in a plastic bread bag but don't put in bread bag too soon or the bag will sweat.