"My favorite 100% whole-wheat bread recipe thus far, originally published in the December 1996 issue of Gourmet and submitted by Timothy Hayes. I have made this bread many times and am posting the recipe basically as written, but have never baked it as two loaves in pans so I cannot vouch for the given baking time. Due to the small size of my family, I divide into 3 loaves, rather than 2, and bake free-form style on a baking stone. I also don't use oats to top the loaves--I use either toasted wheat germ or an artisan bread topping from King Arthur Flour. This freezes well and also makes excellent toast (I love it toasted with peanut butter spread on it:). Don't try to rush it as it needs all 3 "rises" and, depending on your yeast (I use SAF instant) and the temperature in your home, it could take longer to rise. Prep time includes rise time. Hope you enjoy it!"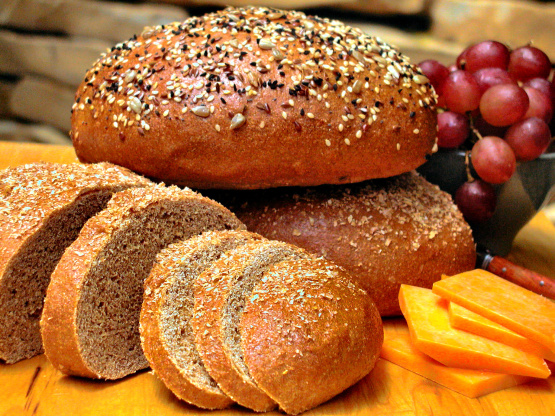 Whole-Wheat Bread Hayes
2 recipe photos
Directions
In a small bowl, stir together 1 3/4 cups warm water and yeast, and let stand until foamy, about 5 minutes. In a measuring cup, whisk together remaining 1/4 cup water and molasses.
In a large bowl, stir together 2 cups flour, sugar, salt, and oil and add molasses and yeast mixtures, stirring until combined well.
Stir in enough of remaining 3-4 cups flour, 1/2 cup at a time, for mixture to form a soft dough and turn dough out onto a lightly floured surface; knead dough 8 minutes, or until smooth and elastic, and shape into a ball (it may be a bit sticky at this point, but will be easy to handle after rising). (I let my KitchenAid handle the mixing and kneading.).
Transfer dough to a lightly oiled bowl, turn to coat, cover with plastic wrap, and let rise in a warm place until doubled in bulk (about 1 hour).
Punch down dough and let rise, covered 45 more minutes.
Divide dough in half, lightly knead each piece and form into ovals. Transfer loaves to greased loaf pans (8 1/2 X 4 1/2 X 2 inches) and let rise, covered with kitchen towels, 45 minutes.
During the final rise, preheat oven to 400°F.
Brush tops of loaves lightly with egg wash and sprinkle with oats (or whatever you choose:) Bake loaves in middle of oven 10 minutes. Reduce heat to 350F and bake loaves 20-25 minutes more, or until golden brown.
Turn loaves out onto a rack to cool.