"In my relentless pursuit of recipes that use okara (since getting a soymilk maker about 2 years ago I seem to always have tons of the stuff around!), I found this delicious bread recipe on vegweb.com and adapted it just a bit. Hearty, healthy, and chock-full of protein, this is a great bread for anyone looking to include more soy in their diet---and to get rid of some of that okara that's lying around! Oh, and did I mention that it's also vegan ; ) !"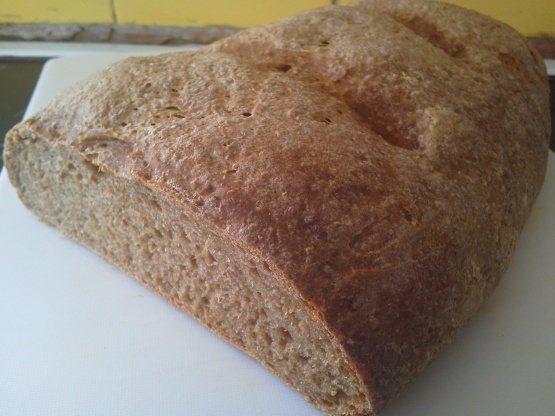 Whole Wheat Okara Bread
1 recipe photo
READY IN:

2hrs 40mins

SERVES:

16

YIELD:

1

loaf

UNITS:

US
Directions
Heat the okara and soy milk, until they are at about 125 degrees (i.e., very warm to the touch). Add the salt, oil, and molasses, and stir to blend. Sprinkle the yeast over the okara mixture and stir gently (the yeast should foam slightly). Let the mixture sit in a warm, draft-free place for 5-10 minutes so that the yeast can proof.
In a separate bowl, combine the bread flour and the whole wheat flour. Gently stir/fold the flour mixture into the okara mixture until a sticky dough forms.
Cover the bowl with plastic wrap and then drape a towel on top. Let the dough sit in a warm, draft-free area for 30-40 minutes, or until doubled in size.
After the dough is about 2x its original size, punch down the dough while still in the bowl, then take it from the bowl and put it on a floured surface. Kneed the dough for a few minutes, folding in additional flour (from 1/4-1 cup) so that it becomes a firm, elastic dough. Mold the dough into a elongated ball shape and place into an oiled, suitably-sized bread pan. Cover the dough with plastic wrap and drape a towel on top, and let it rise for a second time for about 20-30 minutes.
Preheat oven to 325 degrees F. Make several slices in the top of the dough to allow some steam to escape. Place the bread pan on the middle shelf in oven. Bake for 40-50 minutes, or until a toothpick inserted into the center comes out clean and the loaf sounds hollow when you tap on it.
Remove the bread from the oven and let cool on a wire rack for about 15 minutes. Remove from pan, and enjoy some fresh, homemade bread as soon as it's cool enough to slice!