"This is a recipe I came up with when trying to get more whole wheat into my family's diet. We love pita pockets and I couldn't find a WW Pita recipe anywhere even here. So I made one myself. They are light and very tasty and ready in one hour to eat. One key is do not over cook them or let them brown at all."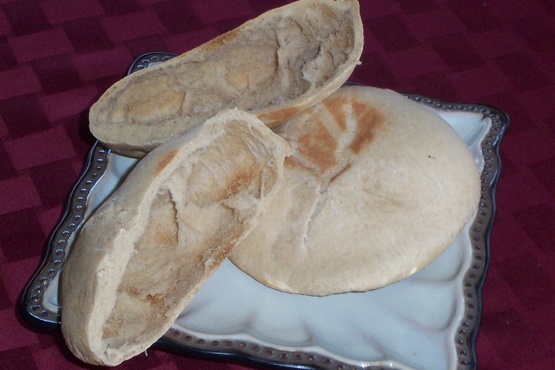 Whole Wheat Pita
2 recipe photos
Directions
Place the water, yeast, honey and salt into a large mixer with standard mixing blade. Mix well.
Add one cup of bread flour, one cup of whole wheat flour, and the gluten. Mix well, don't be afraid to let it run a couple of minutes. It will work up the gluten.
Add another cup flour and mix well. The dough should be sticky and a bit stringy. When the blade is raised the dough should come off the blade with ease. It may almost peeling itself away. This is due to the gluten. Do so and replace with a dough hook.
Add the last of the flour, due to weather and humidity of your climate it may take a smidge (tablespoon) more or less flour or warm water until you get the texture you need. Let the mixer run for 3-5 minutes or until the dough is soft and springs back when touched.
Remove the dough to a dry lightly dusted surface and hand knead for a few minutes. Relax and enjoy the soft firm texture.
Separate the dough into 8 portions. Set the dough aside and cover with a non terry linen for 30 minutes.
Roll down each ball with your palm on a dusted surface forming a small disc. Then, with a rolling pin form 8, 7 inch diameter discs. They should be around 1/4 inch thick. Set aside and cover with a damp linen. Let them rest for 15 minutes.
While they rest put a stone or a baking sheet into your oven and turn the oven on to 450 degrees. I highly recommend a stone if you use this recipe often.
After the fifteen minutes starting with the first pita you rolled out, put a few of them onto the stone or sheet. Do not crowd! They need the circulated air.
Cook each pita for 6 minutes or until they puff in the center. Do not brown them. When they fully puff they are done.
Remove them with tongs and place on a rack and cover with the damp linen. Put the next batch in working from the first rolled to the last.
When cool Cut in half and fill with your favorite goodies. We love them warm stuffed with hummus, cucumbers, parsley, and tomatoes.
Store extras in a plastic zip bag.
get the genius kitchen app.
Watch on your iPhone, iPad, Apple TV, Roku, or Fire TV.
Learn More