"I have made these delicious treats for years. To me, they taste similar to those little snack cakes of years ago, "Hostess' Susie Q's"......only better! I got this recipe from a PBS cooking show in the early 80's. I'm not really sure of the prep and cooking time it takes to make these because I don't pay close attention to the time when I am cooking. I would say approx. 1-1/2 -2 hours from start to finish. This makes 15 large whoopie pies, but you can make them smaller. These freeze very well."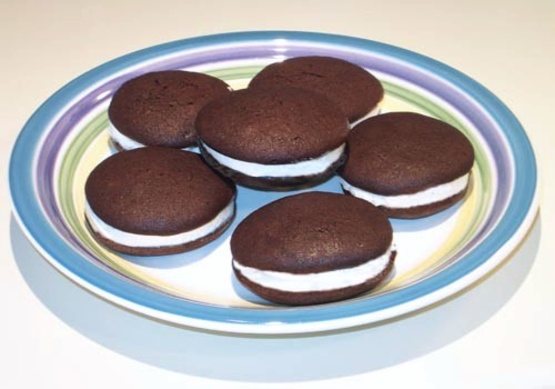 Whoopie Pies
1 recipe photo
Directions
Preheat oven to 375 degrees. Sift together the flour, baking soda, baking powder, salt, cream of tarter, and cocoa. Set aside. In a large mixing bowl, cream the butter, Crisco, sugar, and vanilla until well blended, about 3 minutes. Add the eggs, blending after each addition. Add the flour mixture to the sugar-butter mixture, alternating with the milk. Blend well but don't over mix. The mixture will look like cake batter and if it looks curdled, don't worry about it.
Use ¼ cup batter for each cookie. Drop the batter onto parchment line cookie sheets……one in each corner and one in the middle. Make them as round as possible. At this point, each cookie will be about 2-1/2 inches in diameter and they should be 3-1/2 to 4 inches apart. Bake for 6 minutes and if necessary, reverse the cookie sheet from front to back so they bake evenly. Continue to bake 10 minutes longer or until top of cake springs back when touched with your fingertip. Don't over bake. Remove the cookie from the sheet with a spatula to parchment paper covered racks to cool. If any of the cookie are irregular shaped, trim them carefully while they are still warm. Repeat with the remaining batter until you have 30 cookies.
Meanwhile, prepare the filling. In a saucepan, mix together the flour and milk until blended. Cook on medium heat and cook and stir constantly until mixture becomes thick. Remove from heat and cool completely. In a mixing bowl, beat the butter until slightly softened. Add the vanilla, salt, & powdered sugar. Add the cooled milk mixture to the butter mixture and beat until light and fluffy.
Arrange the cookie into pairs, flat sides up. Place a generous ¼ cup of filling on 15 of the cookies, using the entire filling. Spread the filling to about ½ inch from the edge….it will be almost ½ inch thick. Top with another cookie, flat side down. Press the cookie together so the filling comes to the edge.
Serve and eat. Or you can chill them, and then wrap each cookie individually in plastic wrap. They can be stored in the refrigerator, but taste better eaten at room temperature.
NOTE: To make smaller cookies, drop heaping tablespoons full of batter onto the sheet and then you can get approximately 2 dozen or so.
get the genius kitchen app.
Watch on your iPhone, iPad, Apple TV, Roku, or Fire TV.
Learn More