"I am laughing at the picture of these in The Spatulatta Cookbook. This cookbook is meant for parents cooking with their children -most of us have clean counters. It is really a cute cookbook so if you have a budding cook this looks like a good choice to me. http://www.spatulatta.com/recipes/134-doggie-appreciation/519-wiener-dogs I can't wait to do these with my GS. Maybe this is how I can get DH to eat a dill pickle sliced lengthwise. Ask his sons, the guy eats them on hamburgers only b/c they are sliced the "right way". :) You need toothpicks."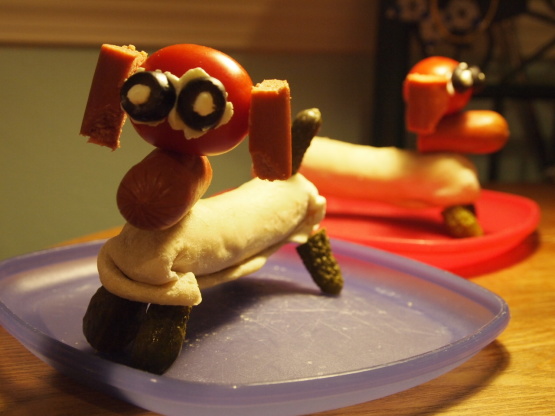 Wiener Weenie Dogs
1 recipe photo
READY IN:

35mins

SERVES:

4

UNITS:

US
Directions
Preheat the oven to 350 degrees.
Carefully unwrap the crescent dough. You want to keep two triangles together to make one long rectangle.
Lay the rectangle down on a clean counter.
Put a hot dog on the dough and wrap the dough around it, pressing the edges together.
Move it to a cookie sheet.
Do this for 4 weenie dogs, SAVING 2 hot dogs for next step.
Cut the 2 remaining hot dogs into thirds, and save the 4 rounded ends for the dogs' NOSES.
Put the 4 NOSES on the cookie sheet, with the crescent wrapped weenies, and BAKE for 12 to 15 minutes, or until the dough on the wrapped hot dogs is BROWNED on the edges.
While the dogs are in the oven, prepare their legs and tails: for each dog, cut 2 pickles in HALF horizontally (crosswise) with a butter knife and carefully push a toothpick halfway into the cut end of each one. Choose another pickle for the tail and stick a toothpick in it, too.
Cut (use a kitchen scissors) the red bell pepper into teardrop shapes for the floppy EARS.
Push a toothpick through the middle of a cherry tomato and stick the ears onto each side of the toothpick, kind of hanging down.
When the dogs come out of the oven, let them cool awhile on the sheet, and then stick on the NOSES with a toothpick.
With another toothpick, add the tomato head with its droopy ears.
Push the toothpicks holding the legs and tails into the dogs.
Last of all, cut the olives into thick squares for the EYES using the cream cheese to stick them on.
Now, the fun part. Admire your dogs, ask mom if you can take a picture of it and post to RZ, and then chow down. Make sure you remove the toothpicks first!