"This can easily be halved if you only want to bake 1 loaf."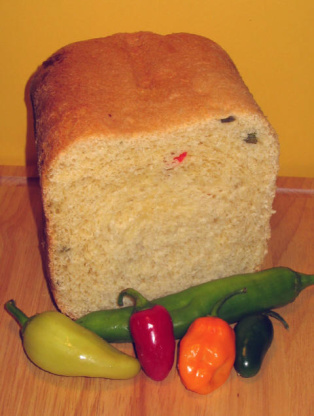 Wisconsin-Cheddar Jalapeno Bread
2 recipe photos
Directions
In a small bowl, stir yeast, sugar, and warm water.
Let stand for 5 minutes until foamy.
Meanwhile, in a large bowl, combine 8 cups flour, cheddar cheese, jalapeno pepper, salt and Tabasco.
In a small saucepan over low heat, warm the milk until it is 120°F to 130°F.
Stir milk into flour mixture.
In a small bowl, lightly beat eggs.
Set aside 1 tablespoon of the beaten egg to brush on dough later.
Add remaining eggs to flour mixture; stir until it makes a soft dough.
On a lightly floured surface, knead the dough 5 minutes or until smooth and elastic, kneading in the remaining 3/4 cup flour.
Shape the dough into a ball and place in a large, greased bowl, turning dough over to grease the top.
Cover with a towel and let rise in a warm place until doubled, about 1 1/2 hours.
Grease two large cookie sheets.
Punch down dough and divide it in half.
Shape each half of dough into a ball and palce the balls on the cookie sheets.
Cover with towels and let rise in a warm place until doubledd, about 1 1/2 hours.
Preheat the oven to 375°F.
Brush the loaves with the reserved beaten egg.
Bake loaves about 45 minutes or until they sound hollow when lightly tapped.
Remove to wire racks to cool.