"www.atasteofthai.com I usually add baboo shoots, dried kaffir leaves."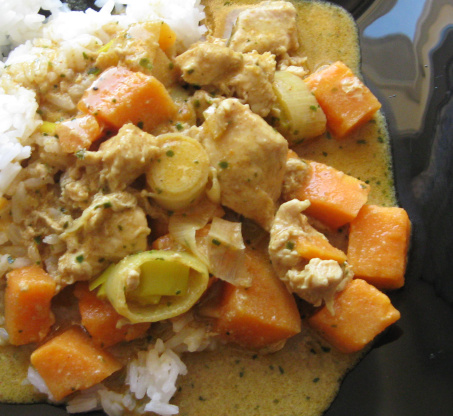 Yellow Curry Chicken and Sweet Potatoes
1 recipe photo
Directions
In a large nonstick skillet or wok, bring 1/2 cup of coconut milk to a boil.
Add yellow curry paste and simmer until paste is dissolved and fragrant.
Add remaining coconut milk, fish sauce, brown sugar and sweet potatoes.
Stir well and bring to a boil. Reduce heat and simmer 5 minutes.
Add chicken and scallions. Stir together with other ingredients, coating well with the curry mixture.
Cover and simmer 15 minutes or until potatoes are tender and chicken is cooked through.