"This mousse is very nice for any time of day, it's not too sweet, but definatly sweet enough for a desert, you can try adding things such as Whipped cream and fruit, a fruit sauce, or even just some extra sugar for a different taste, very easy to make, and even the kids can help out with the whisking. I got this recipe out of a manga book called Kitchen Princess by Natsumi Ando and Miyuki Kobayashi. Extra note from recipe: "Yogurt is made with fermented milk, Dairy bacteria is good for your stomach and insestines and works to regulate your immune system." And remember, as long as you keep the basic recipe the same, you can do what ever you like with thisa, some suggestions I got from my family when I served it to them was perhaps in a cannoli or in-between cake layers."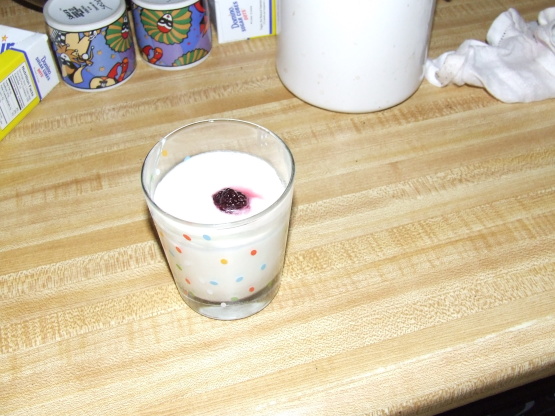 Yogurt Mousse
1 recipe photo
Directions
Mix the yogurt and sugar in a medium sized bowl,.
In a different bowl, pour whipping cream in and whisk until it whips up. Make sure it has the same texture as the yogurt.
In a small bowl, put in hot water and gelatin and mix to dissolve, stir as you pour the gelatin in tso it doesn't clump up.
Put the hot water and gelatin from step three in the yogurt and stir fast to keep it from clumping up.
Add the whipped cream from step 2 into the bowl from step 4 and mix. After mixing, pour into 4 glass cups and chill for about an hour.