"If ever a recipe was in need of an extreme make-over, it's the quiche. Exit all those high-fat, high-cholesterol ingredients and enter a fabulous new recipe that tastes great, is actually healthy for you and best of all, is quick to put together when you use a prepared pie crust. From the book "Quick Fix Vegetarian" by Robin Robertson. Be creative with your veggies, asparagus,spinach, sun dried tomatoes, artichokes... Or skip the veggies and use some tempeh bacon or TVP crumbles. So many options! Note, if you use silken tofu, you may want to add 1/4c thickener such as cornstarch or arrowroot"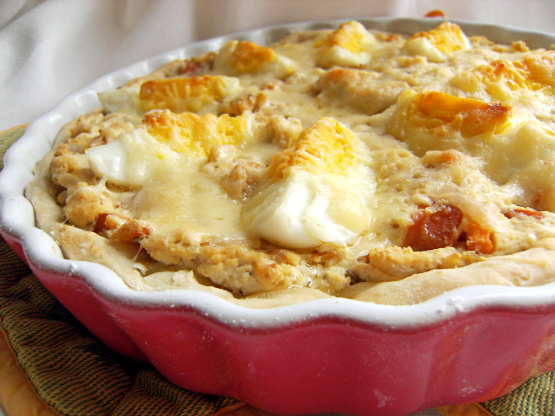 You Pick the Veggies Vegan Quiche
1 recipe photo
Directions
Pre-bake the pie crust.
Preheat the oven to 375°F.
Heat the oil in a skillet over medium heat and cook the onions until soft. Add garlic and cook one additional minute. Season with salt and pepper.
In a food processor, combine the tofu, soy milk, nutrional yeast mustard, cayenne, and salt. Process until smooth.
Fold together tofu mixture, veggies and cheese.
Pour into crust and bake until firm and lightly browned, about 45 minutes.
Allow to cool slightly before cutting.