"Moist and super yummy Raisin Muffins. I made them from a basic muffin recipe then adding some ingredients of my own and tweaking the cooking time. Very easy to make! Chop the raisins finely--don't mash them! The banana makes the already moist muffins, well, more moist with just a hint of banana flavor. Not to mention that it gives a good look on the muffin top crust. It's important that you use an overripe banana. Enjoy!"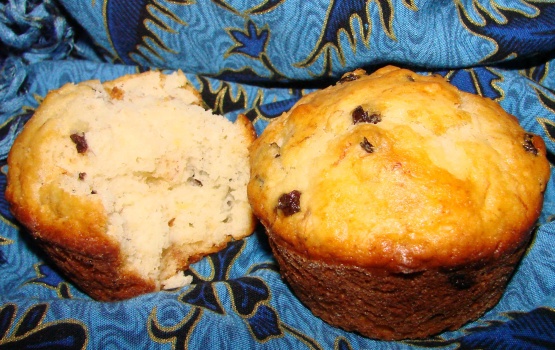 Yummy and Easy Raisin Muffins
1 recipe photo
Directions
Heat oven at 400 Fahrenheit.
Mix the dry ingredients together: flour, baking powder, salt, and sugar.
In a separate bowl, mix milk, oil, egg, banana, and raisins together. Mix very well.
Pour mixture on dry ingredients. Mix only until the dry ingredients are moistened.
Put the batter on muffin pan (with muffin liners!) carefully. Top with one raisin per muffin, if desired.
Bake for 20 minutes or until light to medium brown.