"I got bored cooking the same things for dinner over and over so I decided to try something a little different. I did a little guess and check and my husband and I thought these came out great! My husband says it was the best meal he has had in a long time. Enjoy!"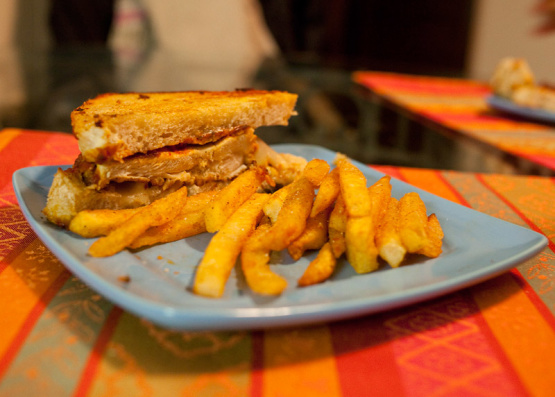 Yummy Chicken Parmesan Sandwiches
1 recipe photo
Directions
1. In a small sauce pan, brown garlic, basil, oregano, onion powder, pepper and salt in olive oil. Add tomato sauce and tomato paste. Mix and cover. Let simmer 1 1/2 hours.
2. When sauce has simmered for 1 hours, salt and pepper chicken and dip in egg then in breadcrumbs. Melt some butter in skillet over medium-high heat. Cook chicken in butter. Cover while cooking.
3. When chicken is close to finished, butter 4 slices of bread. I make white bread in breadmaker- it is easy and delicious. You can use whatever kind you would like, but I recommend thick bread.
4. Remove chicken from skillet. Wash out and put back on stove over medium heat. Place one two pieces of bread with butter side down. Put one slice of mozerella cheese over each slice. Put chicken on top of cheese. Pour some sauce over chicken. Place second slice of cheese on top of sauce. Cover with other slice of bread, butter side facing up.
5. From here, cook like a grilled cheese. Press down to smush and flip when browned to your liking.
6. Enjoy your sandwiches! I serve with fries. Picture shows half a sandwich.