"This recipe is my take on Cinnabon's rolls. This works best for me. The key to the frosting is to whip it for 12 minutes. It sounds crazy but its worth it! Enjoy!"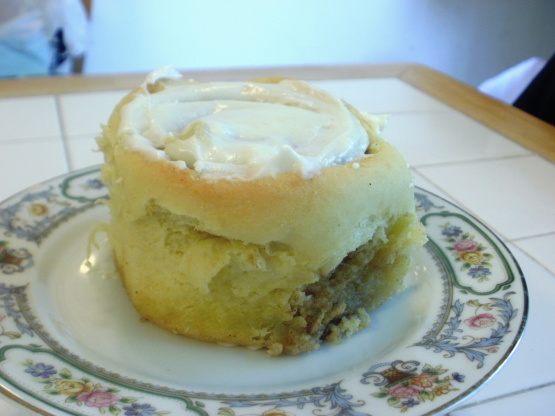 Yummy Cinnamon Rolls for the Bread Machine
1 recipe photo
Directions
Place all the ingredients, except the cinnamon filling, in the bread pan of bread machine (in order as recommended by manufacturer). Process according to manufacturer's instructions for a dough setting and press start.
When the bread machine has completed the dough cycle, remove dough from pan and turn out onto a lightly oiled surface. (I use a nonstick cooking spray). Knead enough to to punch down. Form dough into a ball, cover with a plastic wrap and let rest for 10 minutes.
After dough has rested, roll and stretch into a large rectangle.
Combine the filling ingredients and mix well. Warm in microwave for about 10 seconds to make it spreadable. Spread over dough with rubber spatula, getting as close to the edge as possible.
Starting with the widest end, roll the dough into a log. Cut log into 1 1/2" slices.
Place into a lightly greased baking dish, 9x13x2-inch.
Cover and let rise in a warm place for approximately 45 to 60 minutes or until doubled in size (after rising, rolls should be touching each other and the sides of the pan).
Preheat oven to 325 degrees F.
Prepare frosting. Allow butter and cream cheese to reach room temperature. Beat cream cheese and butter together in a bowl with a mixer. Slowly add in all powdered sugar. Once all of the sugar is in the bowl mix for at least an additional 12 minutes. When almost done, add in the vanilla extract and lemon juice.
Bake at 325 degrees F for approximately 20 to 25 minutes.
Remove from oven. Spread fosting over the cinnamon rolls while still warm. Serve warm.