"From Elizabeth Baird's blog, an easy hummus with variations. Apparently, putting the garlic in the food processor can make it bitter, so stir in finely chopped or crushed garlic after processing. Variations are noted at recipe bottom."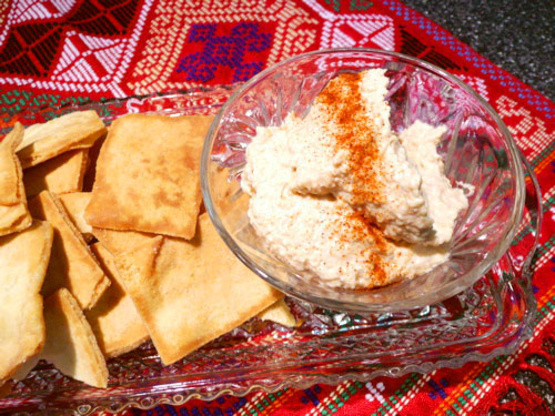 Yummy Hummus With Variations
5 recipe photos
Directions
1. Combine all of the ingredients except the garlic in the bowl of a food processor. Process until smooth, scraping down the side of the bowl several times to ensure an even smooth paste. Add more water for a thinner hummus. Stir in garlic. (Make-ahead: Scrape into an airtight container, cover and refrigerate for up to 3 days.)
2. Tip: If you like to accentuate the sesame flavour, drizzle in a little dark sesame oil with the olive oil.
Hummus Variations:.
-Cumin Hummus: Add 1 to 2 tsp ground cumin and a dash of hot pepper sauce to hummus.
-Roasted Red Pepper Hummus: Whirl 1/2 cup chopped roasted red pepper and a splash of hot pepper sauce with the chickpeas and other ingredients.
-Hummus with Herbs: Add 1/4 cup finely chopped fresh flat-leaf parsley to finished hummus.
-Other Beans Hummus: Substitute white kidney beans for the chickpeas.