"After trying unsuccessfully to log on to Recipezaar this morning, I had to dust off one of my cookbooks to find a recipe for cookies. It has ages since I have made a recipe straight out of a cookbook; and I missed the expertise of or the suggestions of the many great chefs here. These cookies turned out well and seem to be slightly different than other recipes posted here. These cookies really spread out and are quite chewy."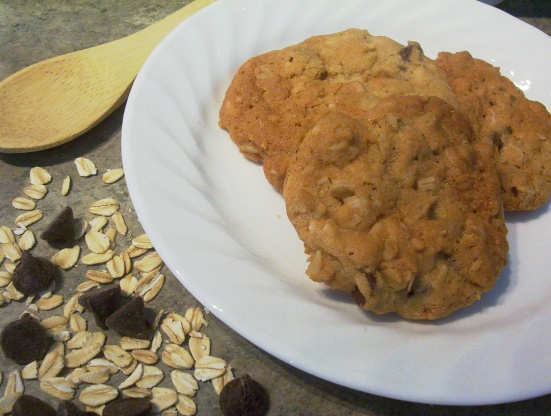 Zaar's Down!! Oatmeal Chip Cookies
1 recipe photo
Directions
In a large bowl, cream butter and sugars until light and fluffy.
Beat in eggs, sugar and vanilla.
Sift together flour, baking soda and salt; blend into creamed mixture.
Stir in rolled oats, coconut and chocolate chips.
Drop teaspoons of batter 2 inches apart unto lightly greased baking sheet.
(Cookies have a nicer appearnce when baked on a baking stone such as Pampered Chef) Bake at 350° for 10-12 minutes or until golden brown.