"An unusual soup that is delicious hot or cold. Smells just like basil pesto and tastes great. Found in a book called 'Love Soup'."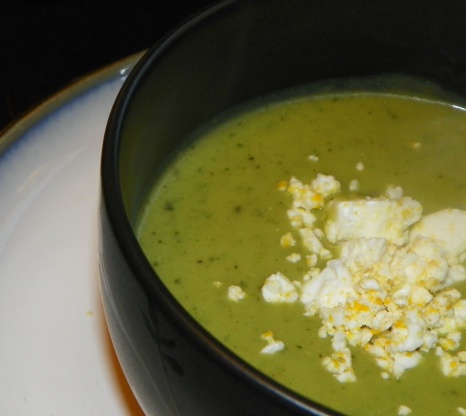 Zucchini and Basil Soup
2 recipe photos
Directions
Wash, trim and slice the zuchinni and put into an ample soup pot with 3½ cups water, a tsp of salt and the rice. Bring the water to the boil, then lower heat and let it simmer, covered, for about 30 minutes.
Meanwhile, heat 2 tblsps olive oil in a pan and add the chopped onions with a pinch of salt. Cook the onions slowly over medium - low heat, stirring often, until they are soft and caramel colour. About 30 minutes. When the onions are tender and sweet, add them to the soup pot.
Grind plenty of black pepper into the soup, add the vegetable broth and the fresh basil leaves and simmer another 2 minutes. Cool slightly.
Puree the soup, add a little more stock if the soup seems to thick. It should pour easily.
Return soup to a clean pot and bring back to a simmer, then stir in 2 tblsps of lemon juice and 2 more tblsps olive oil. Taste the soup and add pinches of salt and lemon juice until the balance is just right.
To serve, pour into a bowl, top with a spoonful of creamy feta or lemon zest. Enjoy.