"I heard about these faux noodles in a low-carb book, might have been Fran McCullough's Low Carb Recipes. I've seen the recipe in other sites but it wasn't posted here yet. This is so FUN once you get the process down. It took me about 4 times to feel quick at it, but I was making nice noodles after one practice zucchini. Thinly shaved zucchini strips with olive oil, salt & pepper - how perfect!"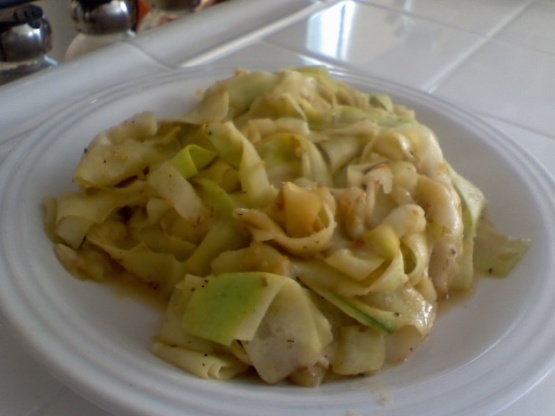 Zucchini Noodles Low-Carb
4 recipe photos
Directions
Get out your best vegetable peeler (it must be SHARP).
"Peel" strips off the zucchini, going around the length of the veggie in an equal manner so that you make strips of equal length and thickness - you'll get the hang of it after one zucchini so have an extra available for practice.
After you have peeled a bowl full of strips, add olive oil and salt and pepper to taste. Don't add too much olive oil. Let the bowl sit out for 1 hour to "temper" the noodles, tossing once or twice (I like to toss with my hands, the zucchini strips feel silky and wonderful!)
Place in fridge after one hour until ready to use (will keep for one day).
I serve this with meatballs and sauce, plain, or with grated cheese. Some people actually boil these noodles briefly (blanche) but I prefer them raw.