Applebees Triple Chocolate Meltdown Leak
Now Watching: {{ playlist.onNowText }}
Up Next: {{ playlist.upNextText }}
"the best cake in the world. filled with molten chocolate that will blow your mind once you take the first bite. The original cake was Invented in Ellington, NY during a town picnic in the 30's and it even caused a mini riot. it was released to apple-bees during the 90's. this cake is easy to make once you have the stuff. new revision adds peanut butter topping to replace white drizzle. once mastered, is known for being one of the best cake in the world."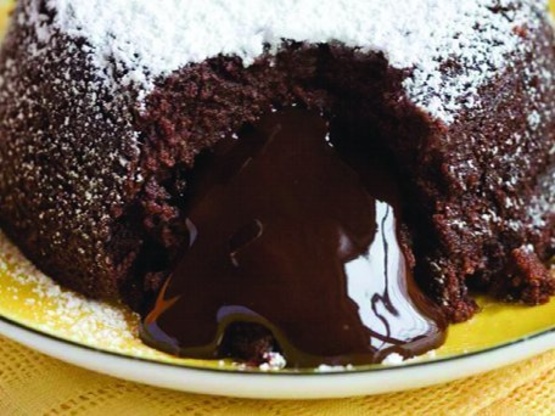 Applebees Triple Chocolate Meltdown Leak
1 recipe photo
Chef's Note
"the best cake in the world. filled with molten chocolate that will blow your mind once you take the first bite. The original cake was Invented in Ellington, NY during a town picnic in the 30's and it even caused a mini riot. it was released to apple-bees during the 90's. this cake is easy to make once you have the stuff. new revision adds peanut butter topping to replace white drizzle. once mastered, is known for being one of the best cake in the world."
Directions
Heat oven to 350°F Grease and flour (with cocoa powder) 12 king size muffin cups (two 6 tin pans).
Stir together sugar, flour, cocoa, baking powder, baking soda and salt in large bowl. Add eggs, milk, oil and vanilla; beat on medium speed of mixer 2 minutes.
Stir in boiling water (batter will be thin). Pour batter into prepared pans or fill cups about 2/3 full with batter.
Bake 30 minutes or until wooden pick inserted in center comes out clean. Cool a bit (about 5 to 10 minutes) and extract from pans very carefully immediately to prepare for next step.
once extracted we need to do some trimming to make it look like a bundtling since it's very hard to prevent these from sticking and breaking in a bundtling shaped pan.
once extracted carefully trim off the top part about 1 CM from the part that was puffed up in the muffin pan when they came out is removed, it should be level when inverted and placed on plate ready for next step.
once inverted over on plate, trim a small round hole in top in center of cake but don't go all the way to the bottom, should start about 1 CM from edge of top and go down no more than 1 CM from bottom of cake. going down too far will cause cake to leak out fudge filling and drain out.
melt chocolate sauce in microwave following instructions on bottle without cap until good and hot and thin enough to pour. use metal tongs to handle it, will be hot. pour chocolate sauce into hole in center of cake and drizzle some over edges.
throw peanut butter bottle with cap and paper removed into microwave or run under hot water to soften it, drizzle over cake into sauce. will make cake look like it's painted.
serve hot with soup/cake spoon.
get the genius kitchen app.
Watch on your iPhone, iPad, Apple TV, Android, Roku, or Fire TV.
Learn More