Now Watching: {{ playlist.onNowText }}
Up Next: {{ playlist.upNextText }}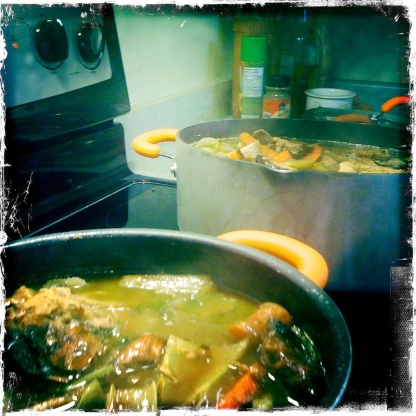 Brown Chicken Stock
2 recipe photos
Directions
Rinse the bones twice in cold water to remove the blood.
Preheat the oven to 450º F.
Place the rinsed bones in a roasting pan and roast, stirring occasionally, until well browned all over.
Transfer to the stockpot and simmer the bones in water to cover for 30 minutes.
During this time, skim carefully.
Meanwhile, put the vegetables in the same roasting pan and roast until brown all over, then add to the soup pot.
Put the hot roasting pan over medium heat and add ½ cup dry white wine or water.
Stir and scrape up all the browned bits from the bottom and sides of the pan and pour into the stock.
Add bay leaf, peppercorns and parsley stems.
Continue to simmer very slowly, uncovered, for 4 hours.
Cool, strain, then refrigerate overnight, and scrape off the fat.
If I want a concentrated stock, I boil the stock until it is half its volume.
Refrigerate or freeze until needed.
note: Rinsing the bones and then skimming during the first 30 minutes yields dividends in clarity and refinement of flavor.
You can dispense with the rinsing and skimming, however.
Just put all the ingredients in a pot, bring to a boil, and follow the recipe from there.
get the genius kitchen app.
Watch on your iPhone, iPad, Apple TV, Android, Roku, or Fire TV.
Learn More