Now Watching: {{ playlist.onNowText }}
Up Next: {{ playlist.upNextText }}
"This is an oh-so-simple recipe created by Buddha that results in a wonderful pizza crust for many uses. It's recommended you have a baking stone (about $10 at Walmart) and a peel (a peel is a large thin paddle with a long handle made of metal or wood used to help slide baked goods in and out of your oven). This recipe goes great with
2bleu's 2 Minute 2 Easy Pizza Sauce
and as a dipping sauce for
My Favorite Calzone
."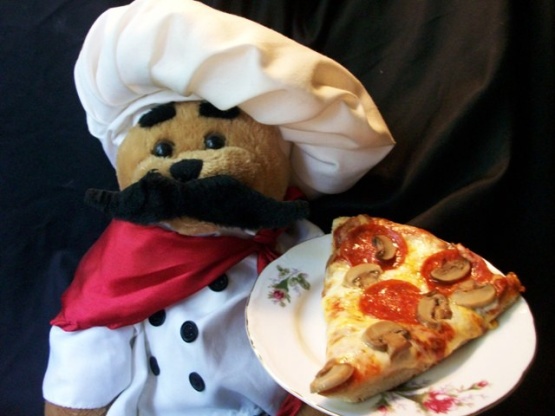 Buddha's Pizza Pie Crust
8 recipe photos
Chef's Note
"This is an oh-so-simple recipe created by Buddha that results in a wonderful pizza crust for many uses. It's recommended you have a baking stone (about $10 at Walmart) and a peel (a peel is a large thin paddle with a long handle made of metal or wood used to help slide baked goods in and out of your oven). This recipe goes great with 2bleu's 2 Minute 2 Easy Pizza Sauce and as a dipping sauce for My Favorite Calzone."
Directions
Combine water and sugar in small bowl; stir to dissolve sugar. Sprinkle yeast on top; stir to combine. Let stand about 8 minutes or until foamy.
Combine flour, Italian seasoning, garlic, salt, and 1 Tbsp of the olive oil in your Kitchenaid (or stand mixer). Stir in yeast mixture. Knead 1-2 minutes or until dough is smooth and elastic, and cleans the sides of the bowl, adding additional flour, (1 tablespoon at a time), as needed.
Pour the remaining 1 Tbsp olive oil on your hands, and pick up the dough and rub your hands over it to coat. Place the ball of dough into a plastic grocery bag and let it rise in warm place 30 minutes or until doubled in bulk. (up to two hours).
Punch down dough. (at this point you can place back in the grocery bag and refrigerate up to a day ahead. Just let it thaw to room temperature before continuing).
Determine the size pie you would like; If you like a thick crust, go for a smaller size, a thin crust, a larger pie. or make small individual pies. Place baking stone on the bottom rack of oven and preheat to 500°F Sprinkle your work surface with flour. Place the dough in the center and using a rolling pin, roll out dough until it reaches your desired thickness. Sprinkle the peel with cornmeal. Carefully place the dough onto the peel. Follow directions for your individual recipe. **NOTE**: If you do not have a peel, you can roll the dough out, then place it onto a baking sheet that has been lined with parchment paper Load it up with toppings and place it in the oven. *OR* if you have a stone, invert the baking sheet, and place the parchment paper onto the backside of the baking sheet. Load it with toppings then slide the pie and parchment paper carefully onto the baking stone using the baking sheet as a peel.
NOTE: To make 2 round crusty Italian loaves, divide dough in half, place on a peel dusted with cornmeal and cover for 30 minutes to rise. Uncover, place in oven, and bake at 375°F for 25-30 minutes.
get the genius kitchen app.
Watch on your iPhone, iPad, Apple TV, Android, Roku, or Fire TV.
Learn More