Now Watching: {{ playlist.onNowText }}
Up Next: {{ playlist.upNextText }}
"Chile pasado–chile of the past-- is sun-dried, roasted and peeled green chile. It was the traditional method of preserving green chile in New Mexico before the advent of freezers. This method assumes that you live in a dry climate like New Mexico or Arizona. If not, remove the stems from the chile and place the pods in a food dehydrator until brittle. You can place them in an oven set at the lowest heat possible, but you must monitor them carefully. There are about 10 medium-sized pods to a pound. Found this recipe on the internet. As you can see I dried my first batch using my banana tree. Time indicated is drying time and keep in mind it will vary with humidity. This method can be used to dry other types of chiles."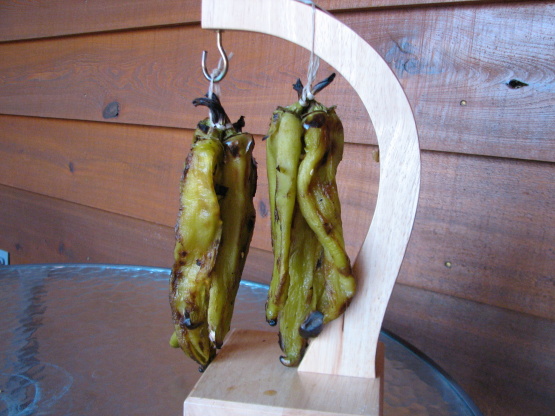 Chile Pasado
1 recipe photo
Chef's Note
"Chile pasado–chile of the past-- is sun-dried, roasted and peeled green chile. It was the traditional method of preserving green chile in New Mexico before the advent of freezers. This method assumes that you live in a dry climate like New Mexico or Arizona. If not, remove the stems from the chile and place the pods in a food dehydrator until brittle. You can place them in an oven set at the lowest heat possible, but you must monitor them carefully. There are about 10 medium-sized pods to a pound. Found this recipe on the internet. As you can see I dried my first batch using my banana tree. Time indicated is drying time and keep in mind it will vary with humidity. This method can be used to dry other types of chiles."
2

lbs new mexico green hatch chiles (2 lbs. equalis about 20 pods)

string
Directions
Roast the chile pods on a charcoal or gas grill until the pods blister and start to turn black, turning often.
Remove them from the grill and place in a plastic bag with a wet paper towel for ½ hour.
Remove and carefully peel the skin off, leaving the stem and seeds intact.
Tie four pods together by wrapping string around the stems and place over a line outside in the sun.
Do not let the chiles get wet by rain, and you can protect them from flies and other insects with by wrapping them lightly in cheesecloth.
Drying time varies with humidity levels, but dry them until they are very dark and brittle.
To store, break off the stems and place the dried pods in a zip bag and then place in a second zip bag.
Place in the freezer for optimum results, especially if you live in a humid climate. Because they are brittle, breaking off the stems will sometimes cause the pods to break into strips and other pieces.
To reconstitute the pods, place them in a pot of boiling water for 1 minute.
Remove from the heat and let stand for five minutes.
Remove from the water and drain. Use them in any recipe calling for green chile in any form except whole pods.
get the genius kitchen app.
Watch on your iPhone, iPad, Apple TV, Android, Roku, or Fire TV.
Learn More