Want more from Genius Kitchen?
Watch on your Apple TV, Roku, or Fire TV and your iOS, Fire, or Android device.
Learn More
"I got this recipe from aunt in 1959. She says that the rolls freeze wonderfully and can be reheated in the microwave. Her other hint is that she also uses the dough as a refrigerator dough and bakes the rolls the next day."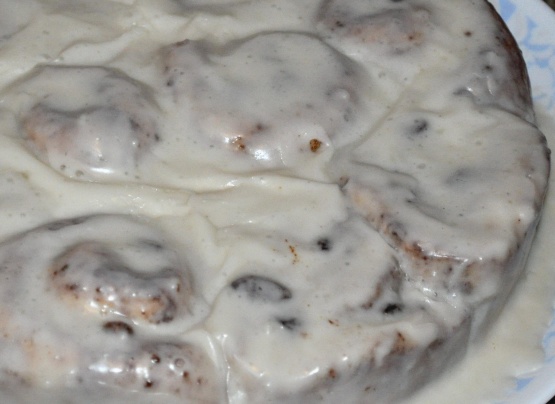 Cinnamon Roll With Vanilla Frosting
3 recipe photos
Chef's Note
"I got this recipe from aunt in 1959. She says that the rolls freeze wonderfully and can be reheated in the microwave. Her other hint is that she also uses the dough as a refrigerator dough and bakes the rolls the next day."
Directions
Add the warm water to the yeast and soak 10 minutes.
Scald milk; pour over the shortening. Add sugar and salt and cool to tepid. Add the dissolved yeast and beaten egg. Add 4 cups flour adding one at a time beating after each addition.
Dough should be soft yet firm enough to handle. Knead on floured board until elastic and smooth. Avoid too much flour. Turn dough into well oiled bowl. Let rise for 1-1/2 hours.
Press dough down and divide into workable size. Roll dough out into a rectangle. Cover with melted butter. Layer with a generous thick layer* of brown sugar. Sprinkle on cinnamon* as desired. If you like raisins, layer on a layer of raisins. Roll up jellyroll fashion.
Using a scissors or a piece of string, cut off slices about 1 to 1-1/2 inches thick. Place slices in an 8 or 9 inch round greased cake pan. Place one slice in the middle and other slices around it. Press rolls down to even out and fill pan. Let rise until rolls fill the pan generously -- about another hour.
Bake in a 350*F. oven about 15 - 20 minutes. If rolls get too brown, cover with a piece of tine foil until the end of baking. Do not over bake rolls.
Remove immediately from pan by inverting onto a plate and then tip over onto another plate to right the rolls.
For the Frosting:
In a medium bowl, place sugar, butter and vanilla. Then stir in enough milk or cream to reach a thick, hardly-able to stir consistency.
Spread over warm rolls as soon as they are placed on a plate to let the frosting melt and run into the rolls.
My Notes: I was pretty generous with both the brown sugar and cinnamon. I ended up with about a 1/2 inch layer of brown sugar completely covered with cinnamon.
I made a few changes to the recipe for personal preference: I used 3/4 Silk almond milk and 1/4 sweetened condensed milk (I still added the 1/3 cup white sugar). I used 4 cups of bread flour and I kneaded the dough for about 45 mins by hand. I let the dough rise in the sunlight with plastic wrap tightly covering the bowl. This extra heat helped the dough rise much faster. Then I punched it down and prepared the rolls by using 1/2 stick of room temp butter and smeared it over the dough by hand. I pat down the brown sugar / cinnamon mix and then began to roll it tightly. I placed the cut up rolls into a baking dish and placed it in the sunlight for an hour to let rise (double / triple in size). Baked in the oven for 20 mins at 350*F and as soon as they came out, I brushed melted butter on top. I also used store bought Pillsbury cream cheese icing and melted it in the microwave before putting it on top of the baked rolls. This recipe is well worth the time and effort required to make this dessert. You'll be glad you did.
I am a seasoned baker and have been making Cinnamon Rolls for at least 25 years. Thought I had a great recipe for my bread machine (zojurushi) but it always was a little on the light and dry side. I have been looking for a dense gooey recipe where the dough has some substance to it.found it! These were wonderful! I made them in the bread machine and it took just 4 cups of flour.as a matter of fact I added an extra 1/4 cup scalded milk as it seemed a little stiff to me once it started mixing. Rolled them out and cut into 8 large rolls.Let rise again. Baked in a 9x13 for 26 minutes @ 350*F. Frosted lightly immediately and then a little heavier when they cooled off with cream cheese frosting.They were gone before dinner! Dangerously good warm or cold.
With one batch I added apples, raisins, and nuts -- the other batch I did plain with just the brown sugar. I also did a cream cheese frosting for both batches instead of the plain sugar frosting suggested. I think this has to be the easiest, tastiest recipe for cinnamon rolls I have ever had the pleasure of baking!
get the genius kitchen app.
Watch on your iPhone, iPad, Apple TV, Android, Roku, or Fire TV.
Learn More