Now Watching: {{ playlist.onNowText }}
Up Next: {{ playlist.upNextText }}
"French Macarons is probably one of the most complicated French desserts around. You might think that it's a breeze at first try until you make a mistake on your second and then you're not too sure what you're doing anymore. Needless to say, it takes a lot of love and understanding of the art. Not to fear though, in this recipe I have some tips and advices to make your "Macaron conquest" fun until you get the hang of it."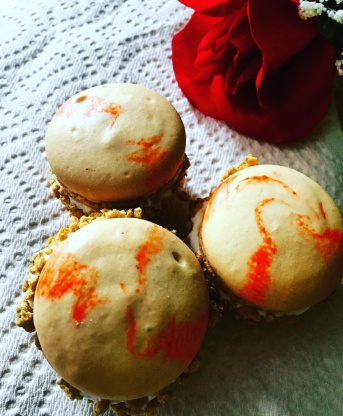 Easy to Follow French Macaron Recipe
1 recipe photo
Chef's Note
"French Macarons is probably one of the most complicated French desserts around. You might think that it's a breeze at first try until you make a mistake on your second and then you're not too sure what you're doing anymore. Needless to say, it takes a lot of love and understanding of the art. Not to fear though, in this recipe I have some tips and advices to make your "Macaron conquest" fun until you get the hang of it."
Macaron cookie

142

g blanched and skinned almonds, ground to fine sand (or Almond flour, but I always prefer the prior)

234

g confectioners' sugar

4

larger egg whites, room temperature

1⁄2 cup granulated sugar
Directions
Pre heat oven to 300 degrees Farenheit.
Through a fine sifter, run your scaled ground almonds and confectioner's sugar together. When big pieces are left on the sifter, pulse it back to the grinder and sift it again until all pieces get through the fine mesh holes. .
With a mixer and a whisk attachment, add the egg whites in the bowl and whisk in medium speed. Gradually add the granulated sugar when the egg whites are already foamy and white. Put mixer on to high speed and whisk until egg whites form in to stiff peaks.
*If you want to add some color to your cookie, now is your chance to do so. With a rubber spatula, gently and carefully fold in your GEL COLORING, one or a couple of drops at a time until desired color and shade is achieved.
With another clean rubber spatula, fold the almond-confectioner's sugar mix in to the whipped egg whites. Remember to do this gently, carefully, and slowly as not kill most air bubbles that will help you achieve a good looking cookie.
Now is the time to pipe your cookie batter on to a baking pan. Always put a silicone mat or a parchment paper on the pan before placing the batter so it won't stick. Using a pastry bag and a round pastry tip (preferably Ateco#804) pipe the batter on to the pan by directly pointing the bag to it in a diagonal direction. Without moving your hands, gently squeeze the batter out of the bag until it reaches desired cookie size. Unsqueeze the bag and move the tip to counter-clockwise until the batter detaches from the pastry tip.
*To keep cookie sizes consistent, you may draw circles on a parchment paper and if you're also using it as pan liner, flip over so the drawn side facing the pan surface so the ink won't touch the batter. If using a silicon mat, there is no need to flip the parchment over, instead, place the drawn parchment under the silicon mat.
When the batter is piped and almost ready to go, tap the pan with a bang a couple of times so as to let it spread a little bit. Let it sit for 10-15 minutes before baking that the batter may develop a skin. You'll know if it is ready when you try gently poking it and the batter won't stick to you finger.
Bake for 10-13 minutes or until the cookie has risen, set, and has develop its feet.
As for the filling, you may use buttercream, ganache or whatever you may wish just as long as it is thick and will keep its shape inside the cookie. Here is your chance to get creative. You may even use nut chunks or chocolate chips to add texture and flavor. .
get the genius kitchen app.
Watch on your iPhone, iPad, Apple TV, Android, Roku, or Fire TV.
Learn More