Now Watching: {{ playlist.onNowText }}
Up Next: {{ playlist.upNextText }}
"This is a huge hit! It looks so cool when completed!! Its a bit of work, but definitely worth it :-) If anyone makes this and takes a photo, please do post it!!! Prep time really varies.. so please make sure you set aside enough time to make this!!! Cook time is time to chill total. Like I said times really vary so please set aside some time. Requires 1 goldfish bowl (new is preferred hehe.. otherwise.. pleaaaaaaase clean the old one! haha)"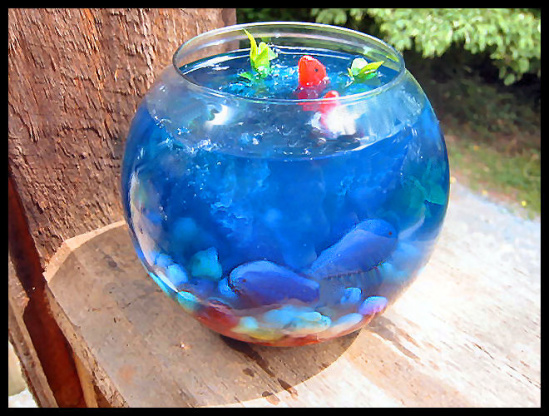 Fish Bowl Jello!
5 recipe photos
Chef's Note
"This is a huge hit! It looks so cool when completed!! Its a bit of work, but definitely worth it :-) If anyone makes this and takes a photo, please do post it!!! Prep time really varies.. so please make sure you set aside enough time to make this!!! Cook time is time to chill total. Like I said times really vary so please set aside some time. Requires 1 goldfish bowl (new is preferred hehe.. otherwise.. pleaaaaaaase clean the old one! haha)"
Directions
Mix gelatin according to package directions, substituting curacao for water in the ratio that you wish.
Place the jelly beans in the bowl.
When gelatin is cool, BUT NOT SET, pour it slowly into the Fish bowl.
Be careful not to move the candies around, because the coloring may run.
Allow to cool for just a little while (you dont want stiff gelatin when trying to place fish and foliage in bowl).
When gelatin is just starting to set (ie: its not watery... set just enough to hold something in place) add your"foliage" and fishies, placing them where you want them with strands of spaghetti (helpful when moving things around.. so your gelatin isnt destroyed hehe).
Refrigerate your fish bowl until you wish to serve it.
We had a few of these at a beach party and people loved them!
You can also make this with colored gelatin, minus the curacao for kids.
Without the alcohol-- it is a HIT with the kids be careful though.
they like to"dive" in to get the candy hahaha!
get the genius kitchen app.
Watch on your iPhone, iPad, Apple TV, Android, Roku, or Fire TV.
Learn More