Gin-Soaked Raisins (Purported Arthritis Remedy)
Now Watching: {{ playlist.onNowText }}
Up Next: {{ playlist.upNextText }}
"I'm posting this recipe because my FIL's second wife has had great success with it. Whether it's the placebo effect or whether it actually works, it has brought this dear woman, a former operating room nurse, some relief and she doesn't doubt its efficacy. Her comment to me was really interesting; she said that she didn't realize how much it was helping her until she wasn't able to have her drunken raisins during a vacation. By the end of three days without the raisins, her knees, which had been doing well, were swollen and very painful. Your mileage may vary. Researching the origins of the recipe, it was apparently first described by Paul Harvey in the 1990s. As with any home remedy, consult your doctor and use common sense when using this. Preparation time does not include the time that it takes for the gin to evaporate."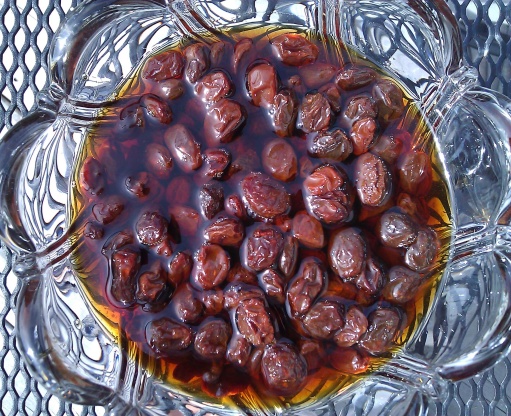 Gin-Soaked Raisins (Purported Arthritis Remedy)
1 recipe photo
Chef's Note
"I'm posting this recipe because my FIL's second wife has had great success with it. Whether it's the placebo effect or whether it actually works, it has brought this dear woman, a former operating room nurse, some relief and she doesn't doubt its efficacy. Her comment to me was really interesting; she said that she didn't realize how much it was helping her until she wasn't able to have her drunken raisins during a vacation. By the end of three days without the raisins, her knees, which had been doing well, were swollen and very painful. Your mileage may vary. Researching the origins of the recipe, it was apparently first described by Paul Harvey in the 1990s. As with any home remedy, consult your doctor and use common sense when using this. Preparation time does not include the time that it takes for the gin to evaporate."
1

cup golden raisin (do not substitute for any other dried fruit or color of raisin)

1 -2

cup gin (enough to just cover the raisins)
Directions
Before you get started, make sure to read the label of your gin to check that it is made from or includes juniper berries. This is critical!
Put the raisins in a shallow glass container and pour enough gin into it to just cover the raisins.
Cover the container with cheesecloth and allow to stand until the raisins absorb the gin and the remaining liquid evaporates, about one week.
Each day, eat NINE of these "drunken" raisins.
I have read that it might take six weeks for this remedy to work, so be patient.
get the genius kitchen app.
Watch on your iPhone, iPad, Apple TV, Android, Roku, or Fire TV.
Learn More