Now Watching: {{ playlist.onNowText }}
Up Next: {{ playlist.upNextText }}
"Back in the day when I cooked for a living, I used to make salsa and guacamole at least once a week. I was made an honorary Mexican by my Latino cooks and the hotel maids. They all requested me to make the guacamole for any Mexican style food function we had going on. Some of the ingredient quantities can be changed to taste and you can add more heat to it if you feel it's necessary. I don't like it to spicy. I often find that people cover their food in hot sauce or spicy peppers to cover up bad cooking. I'm a purist at heart and I enjoy the taste of the food, and don't see it a simple delivery system for hot sauce and peppers."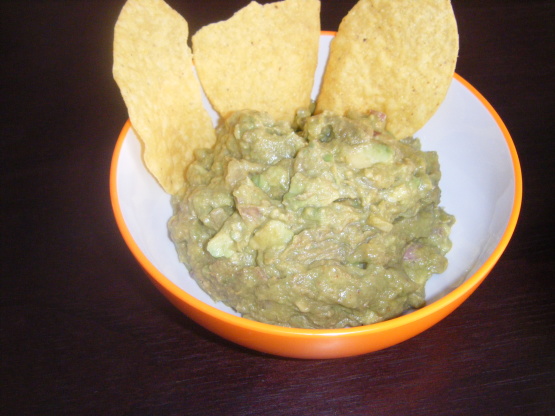 Great Gavacho Guacamole
1 recipe photo
Chef's Note
"Back in the day when I cooked for a living, I used to make salsa and guacamole at least once a week. I was made an honorary Mexican by my Latino cooks and the hotel maids. They all requested me to make the guacamole for any Mexican style food function we had going on. Some of the ingredient quantities can be changed to taste and you can add more heat to it if you feel it's necessary. I don't like it to spicy. I often find that people cover their food in hot sauce or spicy peppers to cover up bad cooking. I'm a purist at heart and I enjoy the taste of the food, and don't see it a simple delivery system for hot sauce and peppers."
Directions
After you cut the onion, put it in a mixing bowl and cover with all of the salt.
After all the other ingredients are prepped, add the cilantro and half the diced avocados to the bowl of onions.
Add the spices and mix well with a potato masher.
Add the rest of the diced avocados and stir gently with a wooden spoon, careful to not smash up the remaining cubed of avocado.
Start juicing the limes with a citrus reamer over the bowl and stir juice inches.
Taste the guacamole after each lime is juiced. Feel free to stop adding lime juice if the flavor is where you like it. I like mine with a nice fresh kick of lime to brighten things up.
Add any additional seasoning now if you think it needs it.
When test tasting, make sure you use the same chips to test with that you will dip in the guacamole. If it's not going on chips, test with a spoon, otherwise the salt will be off.
get the genius kitchen app.
Watch on your iPhone, iPad, Apple TV, Android, Roku, or Fire TV.
Learn More