Moroccan Honeycomb Pancakes (Beghrir)
Now Watching: {{ playlist.onNowText }}
Up Next: {{ playlist.upNextText }}
"These Moroccan pancakes have a light spongy texture. They are cooked on one side in a griddle or flat earthenware pan so that little holes prick the top & give it the attractive honeycomb appearance. Beghrir is often served with honey & melted butter. This recipe makes a large number of pancakes. They can be stored in the refrigerator for 3-4 days. To cut down on cooking time I use a griddle so I can make several pancakes at a time. If you use fast rising yeast the batter may thicken as it sits. Try making 1 or 2 pancakes & if they seem too thick then add a small amount of water to the batter, a couple of spoonfuls. This should take care of the problem. (The prep time the rest time for the batter.)"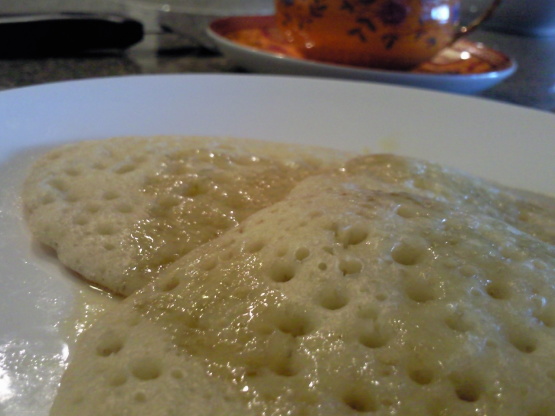 Moroccan Honeycomb Pancakes (Beghrir)
4 recipe photos
Chef's Note
"These Moroccan pancakes have a light spongy texture. They are cooked on one side in a griddle or flat earthenware pan so that little holes prick the top & give it the attractive honeycomb appearance. Beghrir is often served with honey & melted butter. This recipe makes a large number of pancakes. They can be stored in the refrigerator for 3-4 days. To cut down on cooking time I use a griddle so I can make several pancakes at a time. If you use fast rising yeast the batter may thicken as it sits. Try making 1 or 2 pancakes & if they seem too thick then add a small amount of water to the batter, a couple of spoonfuls. This should take care of the problem. (The prep time the rest time for the batter.)"
Directions
Mix the sugar with the warm water then add the yeast. Stir until well mixed then set aside in a warm place for 5-10 minutes, or until bubbly.
Mix the water & milk together & let it sit out until lukewarm. Beat the eggs & then add them to the milk mixture.
Sift the flour, semolina, & salt into a large shallow bowl. Slowly pour half the milk mixture into the flour, stirring constantly by hand until well mixed.
Add the yeast mixture to the dough & beat vigorously by hand in order to air it and to eliminate any curds. Add a little more of the milk mixture from time to time, until the batter is runny smooth (like thick cream). Cover with a towel & set aside to rest for 1-2 hours. (The longer you lest the batter rest the more holes will be in the pancakes).
When ready to cook, rub your pan with a paper towel that has been dipped in canola oil & then heat over medium-low heat.
Gently stir the batter then pour 1 small ladle (3-4 tbsp) onto the pan, smooth into a perfect circle with the bottom of the ladle, & cook until bubbles appear over the surface of the pancake & all trace of raw dough disappears. You do not want to bottom to turn brown so if you need to you can turn it over for a second or two to finish the top side.
Place the pancakes in a large heatproof shallow bowl in overlapping circles and keep them warm until ready to serve. Do not stack them or they will be liable to stick together.
Heat the butter and honey with water in a pan. Simmer for 5 minutes then place in a small serving bowl.
Drizzle the honey mixture over the beghrir & then roll it up. Eat with your fingers & have fun -- .
get the genius kitchen app.
Watch on your iPhone, iPad, Apple TV, Android, Roku, or Fire TV.
Learn More