Want more from Genius Kitchen?
Watch on your Apple TV, Roku, or Fire TV and your iOS, Fire, or Android device.
Learn More
"It's peanut butter jelly time! Baked peanut butter doughnuts are topped with an easy strawberry jelly glaze (and then turned into the cutest jellyfish) for a fun summer spin on a childhood classic."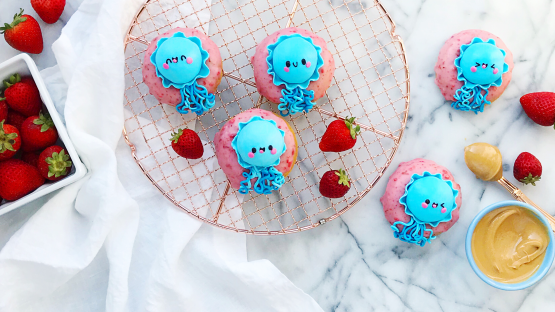 Peanut Butter & Jellyfish Doughnuts
15 recipe photos
Chef's Note
"It's peanut butter jelly time! Baked peanut butter doughnuts are topped with an easy strawberry jelly glaze (and then turned into the cutest jellyfish) for a fun summer spin on a childhood classic."
Peanut Butter Doughnuts

1

cup all-purpose flour

1

teaspoon baking powder
1⁄4 teaspoon baking soda
1⁄2 teaspoon salt (if your peanut butter contains salt you can reduce this to 1/8 teaspoon or skip it)
1⁄2 cup light brown sugar, packed

6

tablespoons creamy peanut butter (this recipe works best with a peanut butter that has no added sugar or salt)

6

tablespoons original sour cream (not reduced fat)

1

teaspoon vanilla extract

1

large egg

2

tablespoons whole milk

2

tablespoons unsalted butter, melted

Strawberry Jelly Glaze

1 1⁄2 cups powdered sugar
1⁄4 cup freeze-dried strawberry
1 1⁄2

tablespoons strawberry jelly

2 -4

tablespoons whole milk

1

gel icing (pink) (optional)

Jellyfish Decorations

6

ounces bright white fondant

1

gel icing (sky blue)

1

gel icing (pink)

1

decoration icing (black)
Directions
Before you get started, you will need: non-stick baking spray, a non-stick doughnut pan, a non-stick doughnut hole pan and a pastry or ziploc bag (for the doughnuts). For the glaze, you'll need a pastry bag and wax paper. For the decorations, you'll need a #1 piping tip, a coupler, a 2-inch circle cookie cutter, a rolling pin and toothpicks.
Doughnuts: Preheat your oven to 350F Generously coat your doughnut and doughnut hole baking pans with nonstick baking spray, then set aside. In a medium-sized mixing bowl, whisk together the flour, baking powder, baking soda, salt and brown sugar. In a smaller mixing bowl, combine the peanut butter, sour cream, vanilla, egg, milk and melted butter. Add the wet ingredients to the dry, and mix until just combined (you don't want to over mix or the doughnuts won't be as light and fluff). The batter will be thick.
Transfer the batter to either a large zip top bag or a piping bag (I like to use a wide mouth glass or jar to hold the bag while filling it with batter). Cut a corner off the bag, and pipe the batter into each doughnut cavity filling 3/4 full. You can use the back of a spoon if you would like to carefully smooth out the batter.
Bake each pan for 8-10 minutes, or until a toothpick inserted into the center comes out clean. Allow the doughnuts to cool for at least 5 minutes before gently removing from the molds and transferring to a cooling rack to cool completely (I find that a toothpick helps to remove the doughnuts easily without smashing them—just place the toothpick to the side of each doughnut and use it to flip the doughnut out of the pan). I also flip the doughnuts and doughnut holes over and use the bottom to decorate.
Glaze: Place the freeze-dried strawberries in a small zip-top bag, and use either a rolling pin or the bottom of a drinking glass to crush them into a powder-like consistency. In a small mixing bowl, combine the powdered sugar, crushed strawberries, jelly and 2 tablespoons milk (I like to use a fork to whisk them together and also break up the jelly a little). You can add more milk, a tablespoon at a time, if the consistency is too thick. Either gently dip the tops of the doughnuts and doughnut holes into the glaze, or use a spoon to spread the glaze onto each doughnut. Place them onto a baking sheet lined with wax or parchment paper so the glaze can set. This recipe makes extra glaze, so feel free to add a generous amount to each doughnut (you can even roll the entire doughnut hole in the glaze).
Jellyfish Decorations: Now for the fun part! If you haven't already eaten all of your PB&J doughnuts you can turn the doughnut holes into cute jellyfish. I like to work on these while the glaze is setting up.
Start by coloring 5 ounces of the fondant with just a little sky blue icing gel. Separate about an ounce, or a 2-3 inch ball, out and set it aside (cover it with a bowl so the fondant doesn't dry out). Create 6 balls of the sky blue fondant, about 2 1/2 inches in diameter and roll them out until about 1/8 inch thick (you want it thin enough that it's pliable, but not so thin that it'll rip).
Place a doughnut hole, glazed side down, on top of the fondant and fold the fondant around it. Gently roll the covered doughnut hole, in your hands, to smooth the edges. Repeat this process with the other doughnut holes and set them aside.
To create the scalloped edge under the jellyfish, roll the remaining sky blue fondant out to about 1/8 inch (except for the piece you set aside after coloring) and use the 2-inch cookie cutter to cut out 6 circles.
Gather all the fondant scraps into a ball, and add more sky blue icing gel to create a darker blue. Use the darker blue fondant, and the lighter piece that you set aside earlier to create the tentacles (I made 7-8 per jellyfish). Take a small piece of fondant from each color, roll it out into a rope or spaghetti like shape, and then gently curl and twist each strand. If your fondant is sticky you can use a little cornstarch to coat your fingers and the workspace, if it becomes dry you can add a tiny bit of water. Make all of your curly tentacles and set them aside (I like to place the fondant shapes onto wax paper so that they are easy to remove when I'm ready to put the jellyfish together).
Once the glaze is set you can build the jellyfish. Take 7-8 of your tentacles (you want a mix of dark and light blue), and press them down onto the doughnut (close to the center) so that the strands are in a little cluster with the curly sides hanging over the edge of the doughnut. Stretch one of the 2-inch circle cutouts slightly, and place it over the middle of the doughnut. Place a fondant covered doughnut hole on top, and gently press down. This will begin to create a ruffled effect in the circle. Use a toothpick, or your fingers to continue the scalloped edge (almost like you would the sides of a pie crust) all the way around the doughnut hole. Fit the black icing with a coupler and the #1 piping tip, and pipe the faces onto each doughnut hole. Color the leftover white fondant with a little of the pink icing gel, and add cheeks (and tongues if you would like) to each jellyfish.
Enjoy! Your friends will be so jelly of your swarm of jellyfish doughnuts that you'll be glad you made extras.
get the genius kitchen app.
Watch on your iPhone, iPad, Apple TV, Android, Roku, or Fire TV.
Learn More