Now Watching: {{ playlist.onNowText }}
Up Next: {{ playlist.upNextText }}
"This comes from my scrapbook of tried and tested recipes which I have used for the last 35 years. The base is really easy to make and instead of rolling you just 'press' the dough into a pie plate and bake for 10-12 minutes. The filling is made on the stovetop (or microwave) and no further baking is required. This is a truly delicious not too sweet custard type tart. Try it you will not be disapointed! Individual small milktarts can be made by pressing base into muffin or patti pan pans. Base can be baked in advance and custard made on the day."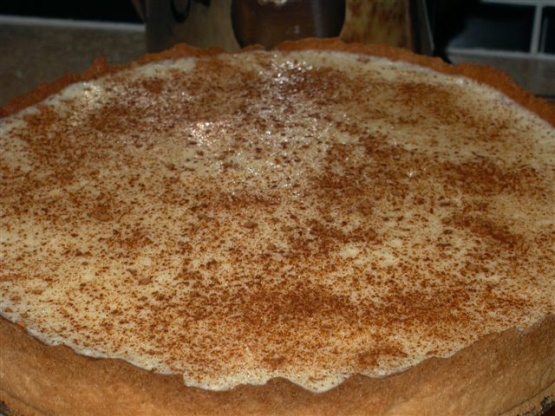 South African Milktart With an Easy Shortcrust Base
1 recipe photo
Chef's Note
"This comes from my scrapbook of tried and tested recipes which I have used for the last 35 years. The base is really easy to make and instead of rolling you just 'press' the dough into a pie plate and bake for 10-12 minutes. The filling is made on the stovetop (or microwave) and no further baking is required. This is a truly delicious not too sweet custard type tart. Try it you will not be disapointed! Individual small milktarts can be made by pressing base into muffin or patti pan pans. Base can be baked in advance and custard made on the day."
Directions
Pre heat oven to 200 degrees celcius.
Grease 2 pie plates with a volume of 1 litre each.
TO MAKE THE BASE.
Cream the butter and sugar.
Add the egg and mix.
Sift the flour baking powder and salt together.
Mix the flour mixture with the egg mixture, using a 'cutting' motion with a firm spatula or spoon.
If the mixture seems dry, use your hands to press it all together, but do not over handle - do not add any liquid! The mixture will come together!
Break off pieces and use your fingers to press the dough into the base and sides of the pans to form the crust.
Bake for 10 to 12 minutes until the sides start to brown lightly and remove from oven.
TO MAKE THE FILLING.
Heat the 1 litre of milk and butter to boiling point.
Separate 2 of the eggs keeping the egg whites apart.Whisk the egg whites until sof peaks form.
Mix the 125ml extra milk, 1 whole egg, 2 egg yolks, sugar, flour,cornflour and salt to a paste.
Gradually add a little of the boiled milk to this mixture.
Then add this mixture to the rest of the boiled milk and beat with a whisk to prevent lumps from forming.
Bring this mixture to the boil stirring all the time until it thickens.
Add vanilla essence and stir through.
Fold the whisked egg whites into the hot custard.
Pour this filling into the baked bases and sprinkle cinnamon over the top.
Allow milktart to cool down completely until mixture is set.
Note1: To make the custard in the microwave heat the milk for about 8 minutes (in a 900w oven).
Once the egg mixture has been added return to the microwave for about 6 minutes, stirring after each minute to prevent lumps forming and continue as per instructions.
Note2: If you are using extra large eggs increase the amount of cornflour, otherwise the 'custard' will be less firm, but still delicious!
get the genius kitchen app.
Watch on your iPhone, iPad, Apple TV, Android, Roku, or Fire TV.
Learn More